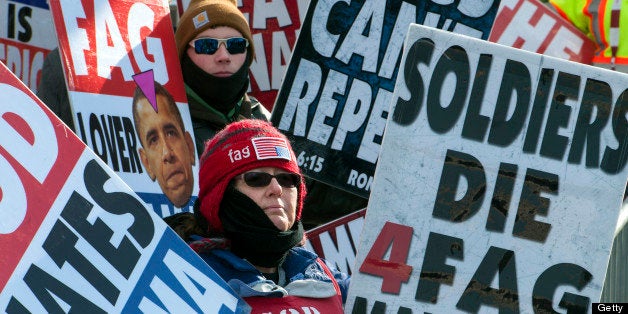 A city councilman in the hometown of the virulently anti-gay Westboro Baptist Church wants to promote LGBT tolerance.
Topeka City Councilman Chad Manspeaker (D) filed legislation Monday to push the city's Human Relations Commission to launch an educational campaign on LGBT rights and to promote gay rights statewide.
"This is a small step but a giant first step in showing the world that this is not a town of bigotry and hate but a town of inclusion," Manspeaker told The Huffington Post. "In terms of Topeka being an inclusive and open-minded community, we need to take these small steps."
Topeka, the state capital, may be known as Westboro's hometown, but Manspeaker said the church is not the driving force behind his decision to put the proposal forward.
"Do I run legislation like this because Westboro lives in Topeka? No. But it sure does feel kind of nice," he said.
Manspeaker said his overall goal is to enact broader rights for residents of his city and to help lead a fight for LGBT equality in Kansas. He noted that by passing his ordinance, Topeka could be on the road to considering a domestic-partner registry and same-sex partner benefits. Topeka lawmakers have turned down such a registry in the past.
Topkea already bans discrimination in government employment based on sexual orientation, but the city defunded its Human Relations Commission several years ago, stopping the agency from investigating discrimination complaints. The commission now handles educational campaigns for race, religion, nationality, disability and sex.
Kansas Equality Coalition Chairperson Stephanie Mott, a member of the Topeka Human Relations Commission, said Manspeaker's proposal would be a step toward a full-fledged discrimination ban in Topeka and more efforts statewide for LGBT rights.
"It makes a statement that the city of Topeka believes that prejudice is wrong against any person," she said. "It is a step towards the larger goal of acheiveing a discrimination ban."
Kansas has a varied history on LGBT rights. The state constitution prohibits same-sex marriage, but the state bars discrimination based on sexual orientation in state government employment. Lawrence, the state's most liberal city, is the only community in the state to have an LGBT discrimination ban in place. The cities of Salina and Hutchison had enacted similar measures but they were overturned in a voter referendum last year. Salina Mayor Barb Shirley (D), however, became the first Kansas mayor to endorse same sex marriage earlier this year.
In addition to backing Manspeaker's proposal, Mott said KEC is planning a push for same-sex partner benefits and a domestic-partner registry, along with expanding the government employment discrimination ban to include gender identity.
Manspeaker said that while he is putting forth his plan just days after major U.S. Supreme Court decisions on same-sex marriage, the timing is coincidental.
"This is not a symbolic gesture," he said. "This speaks to a much larger direction on seeing where the city should go."
BEFORE YOU GO
PHOTO GALLERY
Anti-Gay Protesters Getting Owned