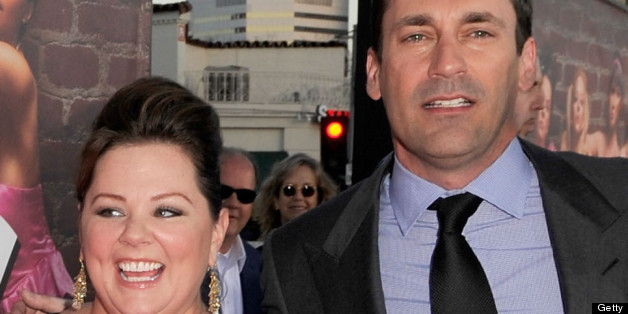 Paul Feig has been talking about "Dumb Jock" for quite some time. The comedy, which Feig wrote for Melissa McCarthy and Jon Hamm, was first announced in June of 2011, roughly one month after the opening of "Bridesmaids."
"I'm very excited about that project," Feig said during an interview with Movieline in August of that year. "I'm writing with them in mind, and it's just a love story that I've always wanted to write, that I think will be really funny, but will play much more real than most quote-unquote romantic comedies. Fingers crossed, I get them to do it."
Unfortunately, it looks like Feig wasn't able to get them to do it.
"Yeah, I wrote it, and the studio loved it, but Jon and Melissa didn't want to do it," Feig said in an interview with Grantland last week. "It's one of my favorite things I've ever written. Maybe we'll relaunch it. I love funny Hamm."
If Feig is able to relaunch "Dumb Jock," it probably won't happen for quite some time. The 50-year-old director has a surfeit of projects in the pipeline, including a sequel to "The Heat," a female take on James Bond and a mother-daughter adventure. On the plus side, it doesn't look like Feig will have a sequel to "Bridesmaids" on his calendar. Kristen Wiig effectively shot that project down in an interview with Harper's Bazaar for the magazine's July issue.
"It wasn't a hard decision [to pass on 'Bridesmaids 2']," Wiig said. "We knew during the first one, this was it. We would have made a lot of money if there was a second one, but that's not my goal in my creative life."
For more from Feig, head over to Grantland.
[via Grantland]
CORRECTION: An earlier version of this post misrepresented Feig's age.
PHOTO GALLERY
'The Heat' With Sandra Bullock & Melissa McCarthy