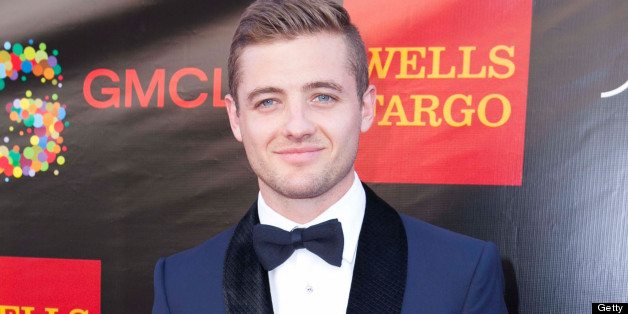 If soccer star Robbie Rogers could talk to his 14-year-old self he would tell him, "God made you this way for a reason."
The California native, who became the first openly gay male athlete to compete in an American professional sports league after coming out in February, was one of 12 athletes chosen to write a letter to their younger selves for ESPN The Magazine. In his letter, Rogers writes that he wished he had known it would all be OK someday.
Via ESPN:
When guys say things in the locker room, remind yourself that most of them don't actually feel this way. They aren't really homophobic. These are people who are trying to please others, or think that's what they're supposed to say. Everyone is dealing with something whether they're gay or straight. You don't have to feel like you're alone. Which brings me to this: If there's any great advice I can give you, it's to find someone you can speak to about what you're feeling inside, someone you can trust who won't judge or expose you. Because you can't walk around with a burden like the one you're carrying. You've got to share this with somebody.
"I know I said I wouldn't tell you what your future holds, but I will tell you that everything's going to be fine -- one day you'll be happier than you ever thought possible," he continues.
In early June, Rogers sat down with "CBS This Morning" to discuss his coming out. He described how as a young man he tried to suppress that side of himself and thought he would never be able to reveal the truth. Once he finally decided to be honest with himself and with others, he said the support was astounding.
He thinks the tide can turn for other closeted athletes as well.
"I definitely know things will change," he said. "Once athletes figure out or realize that they won't be treated any differently, and that they'll be judged on their performance just like any athlete, then I think they'll all feel free to be open with people."
Last week, the Los Angeles Galaxy second striker celebrated the Supreme Court's ruling against the Defense of Marriage Act while in West Hollywood, according to Silicon Valley's Mercury News.
Just woke up. Love what I'm waking up to #DOMADead #hegone

— Robbie Rogers (@robbierogers) June 26, 2013
BEFORE YOU GO
PHOTO GALLERY
LGBT Athletes