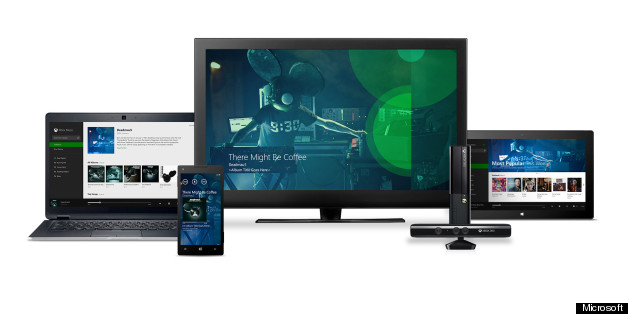 In the last two months, Google has done it. Apple followed several weeks later. And on Monday, Microsoft joined the two tech giants -- and many smaller players -- in bringing a streaming music service to the Web.
Microsoft announced that Xbox Music is now available on Web browsers. Previously, Microsoft's streaming music service, which launched last fall, had been available only to those with Xbox 360s, Windows 8 PCs, and the relatively few -- albeit growing -- number of people who have Windows 8 tablets and phones.
But unlike Pandora or Spotify -- streaming music services whose sole product is music and must make money through advertising to their listeners and selling subscriptions -- Xbox Music isn't meant to be a direct revenue driver for Microsoft. Rather, analysts said, it's a way to make the Microsoft and Xbox ecosystem more enticing, so the company can sell more phones, tablets and PCs with the Windows 8 operating system.
"They're probably not going to make money selling songs," Norman Young, senior equity analyst at Morningstar, said of Microsoft. "What they care about is selling devices. Selling operating systems, specifically Windows 8 -- on a tablet, on a phone and on a PC."
Xbox Music on the Web could be thought of, at least for now, as a pared-down version of Google Play Music All Access, the search giant's streaming music product. For $9.99 per month, the same subscription rate as Spotify Premium and Google Play All Access, Xbox Music Pass subscribers can listen to millions of songs on demand and create playlists using the player at music.xbox.com.
But Web subscribers cannot yet purchase and download songs, like they can with Google Play and the forthcoming iTunes Radio, or stream Internet radio on the Web, like they can with Pandora, Spotify and a host of other services. Xbox Music subscribers with an Xbox 360 or a Windows 8 PC, phone or tablet can do these things, and the company is expected to bring these functions to the Web version later this year.
There also isn't a free, ad-supported version of Xbox Music for the Web. Xbox Music replaces Zune, still available on Windows 7 and Windows Phone 7, but won't be supported in future updates.
The company is positioning the service as the one music service for the tablet, phone, PC and home. Microsoft has said that it will release versions for iOS and Android, but the timeline is unclear.
Mike McGuire, a media analyst at Gartner, the technology research firm, said that bringing the service to the Web and, later, to Android and iOS operating systems, is in line with Microsoft's goal to make the Xbox the hub for all entertainment.
"They're realists," McGuire said of Microsoft, adding that there are "not a lot of people are carrying Windows mobile devices now."
According to research from comScore, Microsoft trails Android, Apple and even Blackberry, with only 3 percent of smartphone platform market share in the U.S.
"If they want to extend to their Xbox users who have devices from other manufacturers, they have to open up to other platforms." McGuire said. "This is about maintaining the quality of the Xbox as the media hub."
The Xbox has been a wildly successful product for Microsoft. According to the NPD Group, a market research firm, 39.1 million Xbox 360s have been sold in the U.S. since it went on sale in 2005. Sony has sold 24.3 million Playstation 3s since they went on sale in the U.S. in 2006.
Microsoft unveiled The Xbox One, the next console in its Xbox line, in May, and it will go on sale later this year.
But when it comes to Windows 8, Microsoft has a long way to go to. As PCMag notes, quoting figures from from Net Applications, only 5.1 percent of PCs running Windows use Windows 8.
"The promise [from Microsoft] is we can get [music] to any device you have," said Young.
"Whether or not people flock to that -- that's what we're going to see in the next two years."
BEFORE YOU GO
PHOTO GALLERY
Microsoft's Worst Gadget Flops