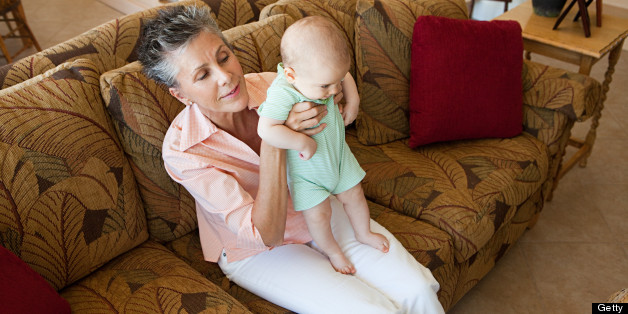 Lisa Mayer is the mother of 4-year-old twins. She is also a musician whose work takes her away from home for most of the day or night on weekends, which is how she came to have a dilemma with which she needs some help.
While she and her husband are working, she says, the children stay with a babysitter, who Lisa calls "Fabiola" on her blog. Fabiola is a woman in her 40s who is also a mother, and who often brings her 10-year-old daughter along to play with the twins.
Fabiola has been coming for about a year, and the twins (one boy, one girl) seem to adore her just as she seems to adore them. But then this happened:
...tonight, there we were in the big family car on our favorite family outing—a trip to Target.  And Johnny (the boy) and Charlie (the girl) were chattering in their carseats.

"Fabiola says that if we don't listen to her she's going to give us away."

We turned the volume down on 50 of the Greatest Silly Songs.

What did you say?

This time, Johnny verified it. "Fabiola says this to us. Only if we don't listen."

My husband and I shot each other a look.

Now what?
In a post on her blog, and later in a comment on my Facebook page, Lisa asked for advice. What to do about Fabiola?
As she explains, "I trust her with the important things -- she keeps them physically safe, feeds them from her own table, can sit through a zillion episodes of The Littlest Pet Shop and makes Charlie the most magnificent hairdos."
But she is no longer sure whether she trusts her enough not to scare her children.
Her choices? To talk to Fabiola about what is and is not appropriate to say to children. Or to "say nothing and find another babysitter." That second choice, Lisa knows, means Fabiola "will always wonder why she doesn't get called anymore. And I will always feel guilty because I know she needs the money."
Lisa sent me this question because she knows I've had to make a similar choice. Back when my youngest son was 5, he announced that he no longer wanted his long-time sitter to come on Saturday nights because "she scares me." After a conversation with the young woman that still left me with questions I took the "just stop calling route." Several years later I learned that sitter had become a nurse and was on trial for assaulting patients. I wrote about all this in a magazine piece that Lisa read. So now, I guess, I am an expert.
Which doesn't mean I have a clue about what she should do about Fabiola. On the one hand, this babysitter appears to take good care of Lisa's children. They don't seem terrified. On the other hand, Fabiola's way of talking to children (probably learned from her own mother) is just not Lisa's way.
What advice would you give Lisa? Is it possible to find a caregiver who does things exactly the way you would? What are the lines that yours simply can't cross?