 A plurality approves of Wendy Davis's filibuster, but she's still running far behind Rick Perry. Gallup shares a regression analysis on what drives Obama's approval rating. And we'd really like to find a better word than "plurality." This is the HuffPost Pollster update for Tuesday, July 2, 2013.
PPP FINDS RICK PERRY LEADING IN MATCHUP AGAINST WENDY DAVIS - HuffPost: "State Sen. Wendy Davis (D-Ft. Worth) has seen her name recognition soar, according to the first Texas poll taken since her 11-hour filibuster against an anti-abortion bill, but she would still trail Gov. Rick Perry (R) by 14 points in a hypothetical match-up. Texas voters were somewhat more likely to support than oppose Davis' use of the filibuster, the Democratic firm PPP found, with 45 percent approving and 40 percent disapproving. Her stance on abortion has also helped Davis's standing in the state. The percentage of voters who've heard of her doubled this year, from 34 percent in January to 68 percent currently. Thirty-nine percent hold a favorable opinion of her, compared to 29 percent with an unfavorable opinion, making her better-known and better-liked than a number of other Texas Democrats, including Houston Mayor Annise Parker, San Antonio Mayor Julian Castro, and former Houston Mayor Bill White. The nationwide attention Davis received for her filibuster has sparked talk that she could challenge Perry in next year's gubernatorial race. But she remains considerably behind Perry, who leads her 53 percent to 39 percent." [HuffPost]
ANOTHER TEXAS POLL SHOWS 'SUBTLETIES' OF ABORTION ATTITUDES -- Our previous review earlier this week of polling related to the abortion fight in Texas overlooked a recent online survey of Texas adults conducted by the University of Texas/Texas Tribune. Joshua Blank and Jim Henson of the Texas Politics Project analyze the results for the Tribune: "Results from the [poll] suggest that Senate Bill 5 triggered intense public opposition because the bill's provisions threatened to significantly limit women's access to abortion. A significant share of the public has been tolerant, even accepting, of measures to regulate abortion, but opposes attempts to significantly restrict access to abortion services or to abolish the availability of the procedure altogether. The line between 'regulating procedures' and 'restricting access' may be a blurry one, but SB 5 appears to have crossed it, given the opposition it aroused in a reliably conservative state.[Texas Tribune, methodology and results]
The survey findings - The UT/TT survey did find "broad openness" to greater restrictions on abortion rights, including a question that found 62 percent of their respondents supporting a ban on abortions after the 20th week of pregnancy, while 27 to 30 percent opposed it (in slightly varying question versions). But Blank and Henson argue that SB 5 "went well beyond the 20-week ban" and "crossed into the rhetorical terrain of potentially dramatic reductions in access to abortion services, an area in which public opinion provides much less support." They note that while a more general question about abortion access found just 36 percent of Texans "think that a woman should be able to obtain an abortion as a matter of personal choice," it also found "only 16 percent of respondents believe that abortion should never be permitted....Taken together, these polling numbers convey broad support for some specific restrictions focusing on procedures... [but] no more than token support for drastically reducing or eliminating access." [ibid]
GALLUP: HONESTY, CRISIS MANAGEMENT KEY TO OBAMA APPROVAL - Here's something you don't see every day: A public poll release describing the results of a logistic regression model. Gallup's Jeff Jones examined which of 12 personal characteristics appear most influential in determining whether Americans approve of the job Barack Obama is doing as President. The results: "Although Americans rate President Barack Obama highest on being likable (76%) among a set of personal characteristics, those views are not strongly related to their overall approval of the job he is doing as president. Instead, two other characteristics he scores well on -- displaying good judgment in a crisis (58%) and being honest and trustworthy (55%) -- do relate highly to his overall job approval rating. Perceptions that Obama 'shares your values' are the strongest predictor of approval, but his score on that dimension, 48%, is only average on a relative basis." [Gallup]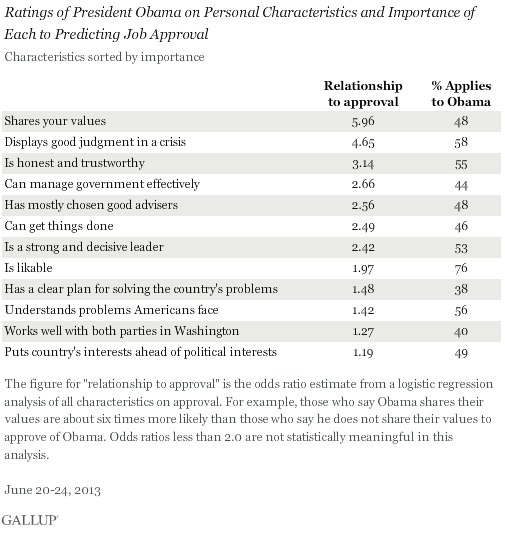 Have something to add to the Pollster Update? Send tips/quotes/stories/charts/new data/juicy miscellanea to Mark Blumenthal (mark@huffingtonpost.com) or Ariel Edwards-Levy (Ariel.Edwards-Levy@huffingtonpost.com).
TUESDAY'S 'OUTLIERS' - Links to more news at the intersection of polling, politics and political data:
-Conflicting internal polls show different results in the Hawaii Senate Democratic primary between Sen. Brian Schatz and Colleen Hanabusa [Politico]
--56 percent of Americans think the Civil War is still relevant to American politics. [Pew Research]
-Kentucky has the highest Senate turnover rate of any state. [[http://blog.lib.umn.edu/cspg/smartpolitics/2013/07/mcconnell_bucking_history_kent.php](University of Minnesota)]
-Harry Enten finds the "historical math" works in Mitch McConnell's favor. [Guardian]
-Nate Cohn says "the conventional wisdom is right: Despite low approval ratings, [Mitch] McConnell is the favorite" for reelection. [TNR]
-Mara Liasson reports on whether demographic changes could make Texas a presidential battleground. [NPR]
-Michael McDonald finds that "reducing North Carolina's in-person early voting would adversely affect African-Americans and Democrats. [HuffPost]
-Republican pollster Luke Frans reviews the political climate. [Resurgent Republic]
-Jeanne Zaino explains why political scientists have had trouble responding to attacks on their discipline. [Inside Higher Ed]
-Anthony Wells explores house effects in UK polling. [UK Polling Report]
-Mitt Romney took a poll (n=12) on whether he should run for president in 2012 - and voted against himself. [HuffPost]
-Yelp introduces city heat maps for words including "bacon," "hipster" and "PBR." [Yelp]
-We think "morejority" should be a word (and yes, this has been a slow news week). [Storify]
POLLSTER UPDATE VIA EMAIL! - You can receive this daily update every weekday via email! Just enter your email address in the box on the upper right corner of this page, and click "sign up." That's all there is to it (and you can unsubscribe anytime).