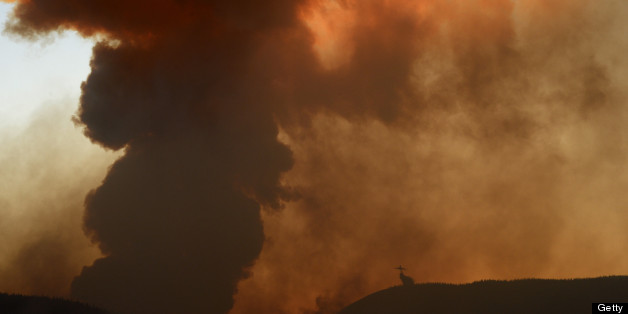 The growth of the massive West Fork Complex Fire burning in southern Colorado about 14 miles northeast of Pagosa Springs continued on Tuesday expanding to 96,936 acres, however firefighters have gained some ground on containment, expanding it to 7 percent -- up from 4 percent on Sunday.
The blaze is fueled by the large amount of beetle-killed spruce and fir trees in the San Juan and Rio Grande National Forests. Much of the area where the fire is burning is steep, rugged terrain making it incredibly difficult and unsafe for firefighters to mount a direct attack.
"We're concentrating on protecting the highest values, and we're meeting that objective," said Bobby Kitchens, fire information officer with the Type 1 Incident Management Team said to The Denver Post on Monday. "Containment isn't a good measure on this fire."
Firefighters are primarily focused on "point and zone protection" and when possible, securing the fire edge, according to InciWeb.org.
More than 1,400 firefighters are battling the southwest Colorado fire which threatens the small town of South Fork, but has not yet reached it. More than 1,000 residents and summer tourists were evacuated from the town more than a week ago.
The firefighters are supported by 20 helicopters, 82 engines, 5 dozers and 13 water tenders.
No structures are believed to have been lost to the erratic wildfire which began burning on June 5 and no fatalities or injuries have been reported.
Three wildfires -- the West Fork, Windy Pass and Papoose fires -- were combined into the West Fork Complex fire on Sunday, June 16.
For a larger view of the many fires that have been burning in Colorado this year, Google has put together this "2013 Colorado Wildfire" map:
View Colorado Current Fires in a larger map
More photos of the devastating 2013 wildfires in Colorado:
BEFORE YOU GO
PHOTO GALLERY
Colorado Wildfires 2013