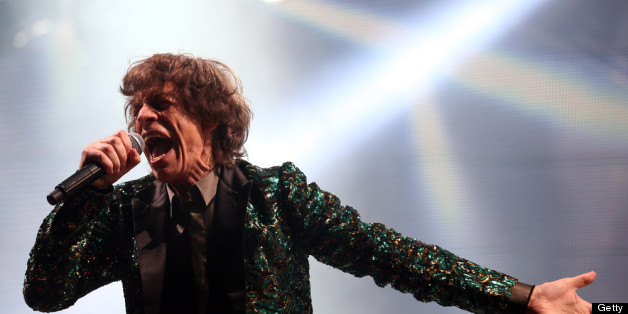 After a year off in 2012, Glastonbury returned with a triumphant bang that won't soon be forgotten. Thousands of acts performed this weekend on over 50 stages in the UK's biggest music festival, with 180,000 people descending on a sprawling English farm.
The Rolling Stones played for the first time in the festival's 43 years, an event billed as a moment of rock history. Tickets sold out in minutes last October, long before The Stones, Mumford and Sons, The Arctic Monkeys and Public Enemy were confirmed as headliners. Those who did score tickets also had the opportunity to catch unexpected shows, like Radiohead singer Thom Yorke's secret set this year.
Rain has plagued past festivals, but this year attendees were blessed with sunshine.
Though there were many memorable moments, here are five that we think were the most standout.
5. Mumford and Sons' Playing A Captivating Closer
The acclaimed folk-rockers closed this year's festival on Sunday with their first-ever headline performance, capping their meteoric rise from small London band to chart-topping musicians. When they first played Glastonbury in 2008, only 200 came to their show. This year, on the heels of multiple Grammys wins and massive album sales, an estimated 80,000 turned up.
Mid-performance, singer Marcus Mumford said he believed the band had done "nothing special" to deserve the coveted main-stage slot. "We truly feel you got us here," he said to the audience. "Thank you so much."
Their performance ended with a rousing Joe Cocker-style rendition of "With A Little Help From My Friends." Vampire Weekend, The Vaccines and The Staves joined them on stage, leading tens of thousands in a heartfelt sing-along of the Beatles' classic.
Though the band has taken the U.S. by storm, they've been met with a more lukewarm embrace in their country. In the days leading up to their set, some even questioned if they should be headlining. But after Sunday's performance, the overwhelming sentiment was they had proven they deserved it.
4. Prince Harry Watching Thom Yorke's DJ Set
Glastonbury is known for its secret performances. In 2011, Radiohead made an surprise appearance. This year, that band's lead singer, Thom Yorke, played a 1 a.m. set in "Heaven," a small section of an other-worldly area called Shangri La where waitresses dress as angels and shoes aren't allowed. Prince Harry was spotted dancing festively to the show, which featured an eclectic mix of music. Revelers belted out to the worlds to everything from The Talking Heads' "Once In A Lifetime" to Azealia Banks' "212."
3. Alt-J Performing An Intimate Secret Show
Rumors were rampant that there would be a surprise show on Thursday, but no one was sure who it would be. Word eventually spread that Mercury Prize winners Alt-J would treat fans to an unscheduled performance. Though there was no confirmation from the band, fans flocked to a small circus-top tent, hoping the rumors were true.
They weren't let down.
"How do you do Glastonbury?" singer Joe Newman said to thunderous applause. "It feels really good saying that; it's our first time here."
The tent proved too small to accommodate all the attendees, leaving some in the mud outside. But once singles like "Breezeblocks" and "Tessellate" came on, even they couldn't help but flash a smile.
2. Nile Rodgers Leading A Sing-Along Of "Get Lucky"
Each day at Glastonbury, there was a new rumor about a guerilla performance by Daft Punk. But the one that seemed the most likely was a set with Nile Rodgers, who was slated to perform with disco pioneers Chic. After all, the legendary songwriter and producer helped Daft Punk create the summer anthem "Get Lucky."
During his set on Friday night, Rodgers played David Bowie's "Let's Dance" and Madonna's "Like a Virgin," as well as many of the other hits he either wrote or produced. After each song, the anticipation of Daft Punk's imminent arrival heightened.
When the set eventually ended, Rodgers left the stage. Fans howled and clapped with excitement, trying to coax him into playing for a little longer. Suddenly, the PA began to play "Get Lucky." Rodgers returned alone to the stage, watching in a daze as thousands sang along to the song.
Daft Punk never showed up. But somehow everyone still seemed satisfied.
1. The Rolling Stones Proving They Can Still Rock
On Saturday, a crowed of around 100,000 gathered to see the Rolling Stones' first Glastonbury performance, including some of the festival's headlining artists.
"After all these years," Mick Jagger teased, "they finally got 'round to asking us."
The 69-year-old led Keith Richards, Ronnie Wood and Charlie Watts through a two-hour long gig with the ebullience and vitality of a man half his age.
Despite widespread rumors that musicians like David Bowie and Lady Gaga would make cameos, there were no major guests. Instead, the band focused on the music –- playing hits like "Start Me Up," "Paint It, Black" and "Midnight Rambler" while fans rapturously cheered, danced, and sang along. The crowd got a special treat when Jagger sang a rewritten version of "Factory Girl," retitled "Glastonbury Girl."
After they began playing "Sympathy For The Devil," a fire-breathing metal phoenix rose from the tip of the pyramid-shaped stage.
It was a powerful moment: A group of aging musicians eager to prove they could rise from their graves before they've been laid to rest.
BEFORE YOU GO
PHOTO GALLERY
Glastonbury