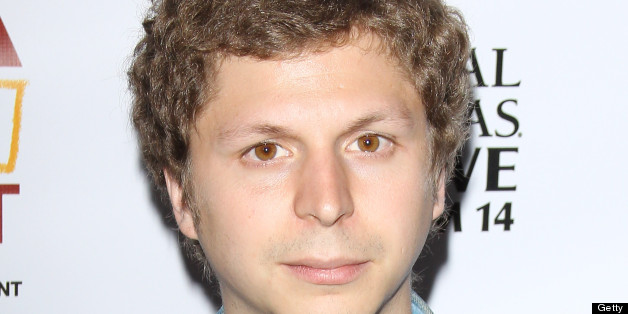 Michael Cera's not the same awkward geek we loved in "Juno." He's grown up into a quietly confident, deep young man as he carves out a niche for himself in Hollywood that's not just about playing quirky oddballs. He's writing and directing too, as he reveals in a recent New York Times profile that shows just how far out of his usual sphere he's willing to go.
In his latest film role, he deftly pokes fun at himself in "This Is The End," appearing as a drugged-out, sexist version of himself who lewdly slaps Rihanna's derriere in the trailer, a stark departure from the more female-friendly parts that he's usually known for. He's adventurous in "Crystal Fairy," playing a guy road-tripping through Chile with one goal in mind: having a mind-blowing trip on psychoactive drugs.
He's even shaking up his role in "Arrested Development," as this season he's spending time in the writers' room as well as in front of the camera as fan favorite George Michael. This smart cutie only gets better as he explores new challenges, and we can't wait to see what's next. Here are his top five charming moments from the profile.
1. He showed up to the interview with a copy of "Moby-Dick" that he's actually reading.
The book wasn't just for show, as he chatted with the reporter about Herman Melville's life and personal struggles.
2. He knows an impressive parlor trick.
After asking the reporter for a cigarette, he took the pack and slid it down his face and over his lips, leaving a cigarette in his mouth. OK, maybe not the healthiest of tricks, but still a feat.
3. Before he filmed "Crystal Fairy," he was in Chile staying with a family and learning Spanish.
Cera went to Chile to shoot a different movie, "Magic Magic," about mental illness, but the financing looked very uncertain. He stayed with director Sebastian Silva and learned Spanish for three months before making "Crystal Fairy," which was spontaneously suggested by Mr. Silva and is now a Sundance hit.
4. He decided to move to New York when he was 4, after seeing "Ghostbusters," and is currently looking for an apartment in Brooklyn (of course).
Cera remarked, "In New York, if you walk outside you are involved. Everyone feels that, and everyone is feeding off that. I saw New York in 'Ghostbusters' when I was 4 years old and decided I would end up living there."
5. He thinks show business is silly.
Despite the fact that he's been acting since age 9, Cera is still able to step away from the screen for a reality check, commenting, "It's so intertwined with my life since I was 9 years old, and there's a naturally silly kind of pageantry to the whole thing. I mean, it is silly."
BEFORE YOU GO
PHOTO GALLERY
Celebrity News & Photos