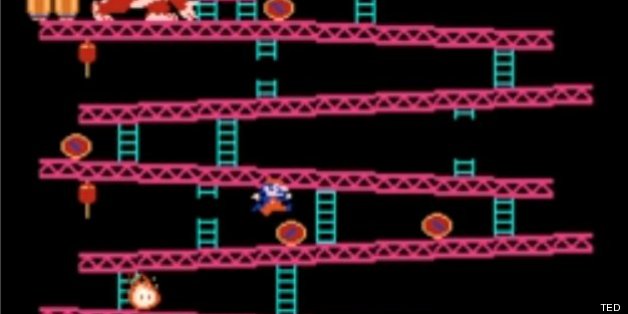 In case you missed the memo, "Minecraft" is art these days. The 2011 video game has been promoted from your parent's basement to The Museum of Modern Art's walls in New York, thanks to its recent acquisition of classic video games.
In November 2012, MoMA announced 14 video games would enter the museum's Applied Design exhibition including "Pac-Man," "Tetris," and "The Sims." Architecture and Design senior curator Paola Antonelli explained the logic behind the initial acquisitions to Artinfo: "Our criteria, therefore, emphasize not only the visual quality and aesthetic experience of each game, but also the many other aspects—from the elegance of the code to the design of the player's behavior—that pertain to interaction design."
This week "Minecraft" joins the highly coveted position of museum-dwelling video game along with six other works: Magnavox Odyssey (1972), Pong (1972), Space Invaders (1978), Asteroids (1979), Tempest (1981) and Yar's Revenge (1982). Most games are available to play online, so the gaming art-viewing can take place from your very own sofa.
MoMA's decision to include video games in its collection caused quite a stir when it was announced last November. The Guardian's Jonathan Jones took particular offense, penning a piece entitled "Sorry MoMA, video games are not art" where he argued "no one 'owns' the game, so there is no artist, and therefore no work of art."
Jones' takedown of intellectualizing the gaming sphere is reminiscent of critic Leslie Fiedler's 1955 tirade against comic books as "vulgar art." The low-brow form was "sadistic, fetishistic, brutal [and] full of terror," she explained.
To better understand the method behind Antonelli's beautiful madness we recommend her TED talk on the subject, titled "Why I brought Pac-Man to MoMA." In the video, she says, "Video games are the purest aspect of interaction design," going on to describe how time, space, aesthetics and behavior all form the full gaming experience.
What do you think, readers? Will Pac-Man be immortalized alongside Pollock? Let us know your thoughts on MoMA's seven new works in the comments and peruse some of our favorite artsy video games below.
If you're looking for some digital action IRL, we highly recommend the upcoming exhibition "XYZ: Alternative Voices in Game Design" which runs from July 14-September 1 at the Museum of Design Atlanta.
PHOTO GALLERY
10 Notable Artistic Video Games