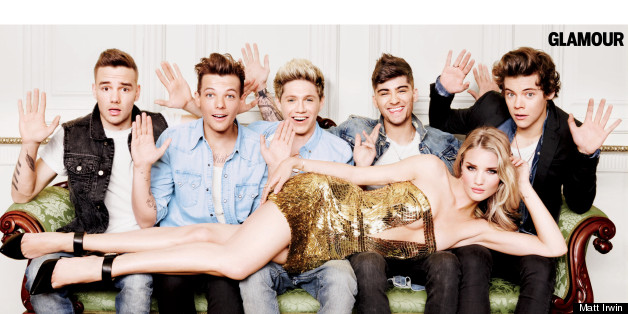 One Direction may call themselves "lazy" and "normal lads" in a new interview for Glamour magazine, but you probably shouldn't believe them. In fact, we'd venture a guess that they're the busiest boy band on the planet right now, embarking on a monster world tour, recording a new album and releasing a movie this summer (not to mention creating their own custom perfume scent).
The boys share the cover of the August 2013 issue of the women's magazine with actress Rosie Huntington-Whiteley, and in the interview they also chat about romance on the road, why they're not a "typical" boy band and their crazy-rabid fan base. Read an excerpt, below, and click over to Glamour.com for more.
Scroll down to see photos from the shoot.
ON WHY THEY'RE NOT THE TYPICAL BOY BAND AND WHY THEY DON'T DANCE:

GLAMOUR: So tell us—what makes One Direction different from other boy bands?
ZAYN: We didn't want to just follow the boy-band formula. We didn't want to do any dancing. We just wanted to be five dudes in a band.
LIAM: We just kind of came out and said, "We can't dance. We're a bit lazy. We're just normal lads."

GLAMOUR: Is it that you can't dance, or you won't dance?
LIAM: A bit of both, actually. We look stupid dancing. That's what I think.

GLAMOUR: You also didn't try to present yourselves as perfect.
LIAM: I don't think we've ever tried to be squeaky-clean. Nobody's perfect.
HARRY: The thing is, when you're playing a part, eventually it goes wrong. Eventually someone's going to see that that's not who you are. So it's best to be yourself from the get-go.

ON THEIR RABID FAN BASE:

GLAMOUR: Your fans seriously—no, completely—lose it when you guys go out in public. How do you adjust to that?
LIAM: I don't think it's ever something we'll get fully used to.…We kind of try to stay under the radar and not tweet where we are. Yesterday me and Niall went out shopping in Amsterdam. And literally every single shop we went into, they had to close the shop because there were so many people outside. Some girl tried to pull my hair out. It's quite mad.
ZAYN: I don't make CIA plans to organize myself. I just go out.

GLAMOUR: Have you ever actually feared for your safety?
ZAYN: Never. I'm not too worried about 12-year-olds jumping on me. But when it comes to their safety, running in front of cars and stuff, it does get scary.

ON DEALING WITH THE PAPARAZZI AND ROMANCE:

GLAMOUR: What about the paparazzi? There's a real trade-off with fame, especially in the romance department.
HARRY: People who know me know what's true and what's not.
NIALL: For me, it's not a massive trade-off. We've always wanted to do this, so we're not complaining.
LOUIS: I think you have to keep your feet on the ground. I'm in a relationship [with college student Eleanor Calder], and it's completely fine.
LIAM: Yeah, it's something that is quite hard—people being a bit rude to [ex-girlfriend Danielle Peazer] on the Internet. And it's a challenge having a relationship on the road. Credit to anybody that does it, really.

ON WHY THEY THANK SOCIAL MEDIA FOR THEIR SUCCESS:

GLAMOUR: All of you have massive Twitter accounts. Do you thank social media for your success?
NIALL: Put it this way—we wouldn't be in Oberhausen, Germany, if it wasn't for our fans. But don't put on Twitter what you wouldn't want your mum to read. It's kind of that, you know?
LIAM: To me it's mad to think 10 million people actually have an interest in the stupid stuff I say.

ON THEIR COVER CO-STAR, ROSIE HUNTINGTON-WHITELEY:

GLAMOUR: Your cover costar, Rosie Huntington-Whiteley, is British. How was it working with her?
HARRY: She was lovely, really cool.
LIAM: I'm not the best at talking to women. When you're with someone like Rosie, it's a bit more difficult. I was like, I don't really know what to say, so I'm just gonna kind of stand here and try to be cool.
Check out a behind-the-scenes video from the shoot here. The issue hits newsstands nationwide on July 9 and is available now digitally (iPad, Kindle Fire and Barnes & Noble Nook Color).
--
Read more on Glamour.com
- 35 Truths About Marriage--From a Guy's Point of View
- 10 Wardrobe Essentials Every Woman Should Own
- 62 Diamond Engagement Rings Under $5,000
- The Best Summer Nail Polish Shades for Your Skin Tone
- 15 Hair-Color Makeover Ideas to Try in 2013
BEFORE YOU GO
PHOTO GALLERY
One Direction Glamour August 2013