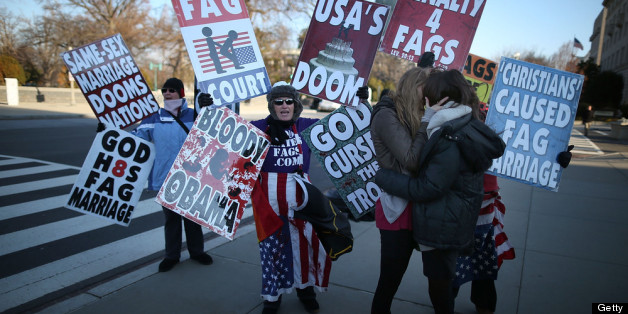 In a move that is growing increasingly less shocking, the controversial Westboro Baptist Church -- known for its strident anti-homosexuality position -- has announced it will picket funerals for the 19 firefighters killed in the line of duty in Yarnell, Ariz., on Sunday.
The WBC was quick to chime in on Twitter as news of the tragedy in Arizona spread over the weekend.
"@ABC:...19 AZ firefighters die battling fast-moving wildfire.." Praise God-a consuming fire! No #SSM, rebels #WBC2PicketFunerals #DOOMEDusa

— Westboro Baptist (@WBCSays) July 1, 2013
Westboro Baptist Church THANKS GOD for AZ fires that killed 19 firefighters! cc: @RyanPrakOHara @abc15 @ARIZONA12NEWS pic.twitter.com/h7UAUE7M0v

— Westboro Baptist (@WBCSays) July 1, 2013
The quasi-religious group also tweeted out a news release detailing plans for the protest. WBC spokeswoman Shirley Phelps-Roper also took to Twitter, calling the fire a "marvelous work of God" that caused the so-called church to "bow in humble thanks and praise to God!"
The Kansas-based hate group seems to be ramping up its anti-gay rhetoric lately. The group announced plans to picket pop star Taylor Swift's Aug. 3 concert for "strutting across the world stage like a proud whore." The group also said it will picket the Supreme Court for striking down the Defense of Marriage Act, a law which had barred the government from recognizing same-sex marriage.
But Westboro may be stretching itself a bit thin in its enthusiasm. Its website boasts an impressive list of future picketing venues but does not include the Arizona funerals. And the group has been known to threaten to picket an event only to bail at the last minute.
If WBC members do show up in Arizona, they will likely be met by the type of counter-protests that have protected similar funerals in the past. For example, in April members of Boston's Teamsters Local 25 created a human shield around the funeral of Boston Marathon Bombing victim Krystle Campbell. Ultimately, the union members carried the day, as no one from the WBC ever showed.
Similar counter-protests have also become fundraisers, raising thousands of dollars for equal rights causes.
Any protests at the firefighters' funerals may violate a 2011 Arizona law that makes picketing withing 300 feet of a burial site a misdemeanor, according to the Arizona Republic.
Arizona House Speaker Andy Tobin (R-Paulden) told the Republic that he had had already notified the Yavapai County Attorney of Senate Bill 1101 in case the WBC does try to protest any funerals.
BEFORE YOU GO
PHOTO GALLERY
Memorial Service For AZ Firefighters