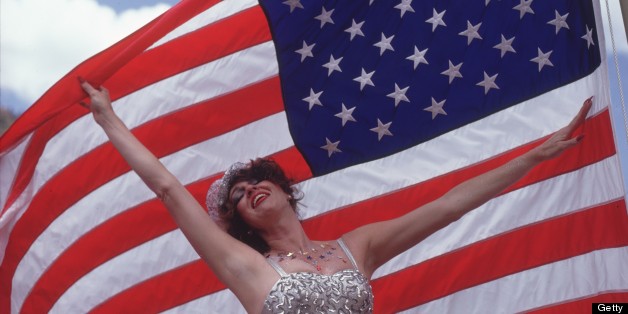 Today is the Fourth of July, America's great big birthday, and what better to do on such a festive occasion than to barbecue some meat (or delicious vegetables), gather with friends and listen to some carefully chosen tunes while staring at the blinding light of impressive pyrotechnic shows overhead.
Well, you're in luck! We've put together a list of the 20 songs you should be listening to on Independence Day. Scroll down for the very indie playlist and let us know what songs you would add in the comments.
1. "Independence Day" - Elliott Smith
Let's start this holiday off with indie royalty.
2. "The Star Spangled Banner" - Sufjan Stevens
A little alternative patriotism.
3. "Parades Go By" - The Magnetic Fields
Because Fourth of July parades are almost as good as St. Patrick's Day.
4. "American Music" - Violent Femmes
An ode to American music on this uber-American day.
5. "4th of July" - Aimee Mann
Let's bring it down with Ms. Mann.
6. "Summer Special" - Land of Talk
And immediately bring it back up.
7. "(New Slang) When You Notice the Stripes" - The Shins
Because we can't forget the (stars and) stripes.
8. "July! July!" - The Decembrists
Huzzah for July!
9. "United States" - The Smashing Pumpkins
Are you feeling a little revolutionary this Independence Day?
10. "Ashes of American Flags" - Wilco
What's more American than the alt country vibes of Illinois-bred Wilco?
11. "This Summer" - Superchunk
So you can get your off-beat clap on.
12. "Independence Day" - Ani Defranco
"We sat out on the hood with a couple of warm beers and watched the fireworks explode in the sky."
13. "This One's From the Heart" - Tom Waits
We couldn't resist.
14. "Freedom Hangs Like Heaven" - Iron & Wine
Your bluegrass fix.
15. "Keep On Knocking" - A Band Called Death
A little love for America's first punk band.
16. "Declare Independence" - Bjork
The Icelandic diva celebrates the Fourth the only way she knows how: by being herself.
17. "Independence Day" - David Byrne
Who knew there were so many songs called "Independence Day"?
18. "Staring at the Sun" - TV on the Radio
For later in the night, or early morning rather.
19. "Sun it Rises" - Fleet Foxes
Yup, it's officially the next day.
20. BONUS: "It Always Rains on a Picnic" - Modest Mouse
Just skip to this song if the weather turns sour.