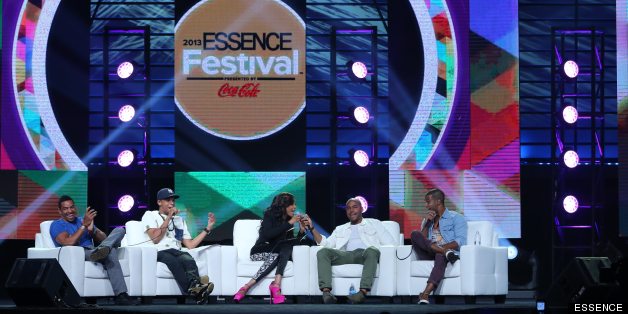 While this year's line-up of performers prepared to grace the stage for the kickoff of ESSENCE's 2013 Music Festival Friday night, another group -- black men -- was in rare form on stage at Ernest N. Morial Convention Center, where they opened up on a topic close to many a heart: relationships.
Actors Laz Alonzo, Nathan Owens and Redaric Williams, alongside Bravo TV's chef Roble Ali, joined moderator Michelle Williams of Destiny's Child for a candid talk on what men really think about women when it comes to sex and love.
"Life is so hectic and so stressful, when I'm in a relationship, my woman becomes my refuge," Alonzo said when asked what he looks for in a female counterpart. "When you have somebody that loves you unconditionally and is there for you and is going to listen to your problems ... it makes life worth living. It makes work worth fighting for."
The near hour-long conversation, touched on topics ranging from the importance of spirituality to how men feel about being cheated on and what keeps them faithful for the long haul. "Being engaging, paying attention and not letting things become routine," Ali said. "What's going to keep somebody faithful is nothing other than time," Redaric Williams chimed in. "You have to be ready to be in a relationship where you are going to be faithful and that comes with time."
"Sex & Love: On His Mind" followed an equally lively discussion featuring model Nicole Murphy and reality TV Kenya Moore, among others, on how to channel your inner naughty girl -- at any age.
"I'm old-fashioned," Murphy told the crowd. "I love it when a man courts a woman – men want what they can't have."
Sounds like sage advice -- advice that Murphy said she often gives to her four daughters -- but does it work?
Check out some of the questions audience members asked of the men via Twitter and their responses in the slideshow below.
Friday's panel, which was part of Essence's "Empowerment Experience," continues at the Ernest N. Morial Convention Center through Sunday (July 7).
PHOTO GALLERY
Sex & Love: On His Mind