Evelyn Lozada wants fans to know she has been reborn.
Bent but not broken by her turbulent past, the 37-year-old reality star covers Latina's August issue with a simple message beside her: "I made a decision to change." HuffPo got an exclusive look inside the magazine, set to hit newsstands on July 9, in which Lozada reveals details about "the incident" with former NFL player Chad "Ochocinco" Johnson and her plans to start a foundation to help other domestic violence victims.
In the interview with Latina, the Puerto Rican star recounts the moments of fear after Johnson head-butted her over a receipt for condoms she had found in their car. The "Basketball Wives" star required six stitches on her forehead as a result of what she has dubbed "the incident;" physical marks that she now credits for her actions.
"...what's sad is that if that day, if I didn't have physical wounds, I probably would've walked right into that house because I wouldn't have wanted anyone to know," Lozada told Latina. "I would've been embarrassed. I wouldn't have wanted my family to know."
Once infamous for her boisterous antics on VH1's reality series "Basketball Wives," the star also admitted that she's "not always proud" of what she has said and done on the show -- especially after headlines began accusing Lozada of provoking her ex-husband's violent behavior.
"A lot of people connected my previous actions on the show to this," Lozada recounted in the magazine. "If they were talking about the incident on the news, there would be a clip of me acting a fool on "Basketball Wives." I never lifted a finger at him. If I had, I would have said it."
Lozada has enlisted the help of life coach Tony Gaskins, Jr. in an attempt to reform her life after her divorce from Johnson almost a year ago. In a move meant to symbolize her spiritual rebirth, the reality star told the magazine she was baptized again in January.
"Tony was talking to me about soul ties, and I felt like I needed to cut that cord [with Johnson]," Lozada told the magazine. "I wanted to do things differently, to start over. I'm still going to be Evelyn, but I have a different vision of my life."
This new life "vision," according to the star, will include opening the "Pain Is Not Love" foundation to help other victims of domestic violence.
"Being an advocate for domestic violence, you don't choose that," Lozada told Latina. "I got chosen via the circumstances that happened. But I cannot imagine me being in that situation and not being able to do anything, just being stuck. So that's how the foundation came about. To help women get out."
Check out an exclusive image of Evelyn Lozada's photo shoot below and a video of the star's favorite Puerto Rican things above.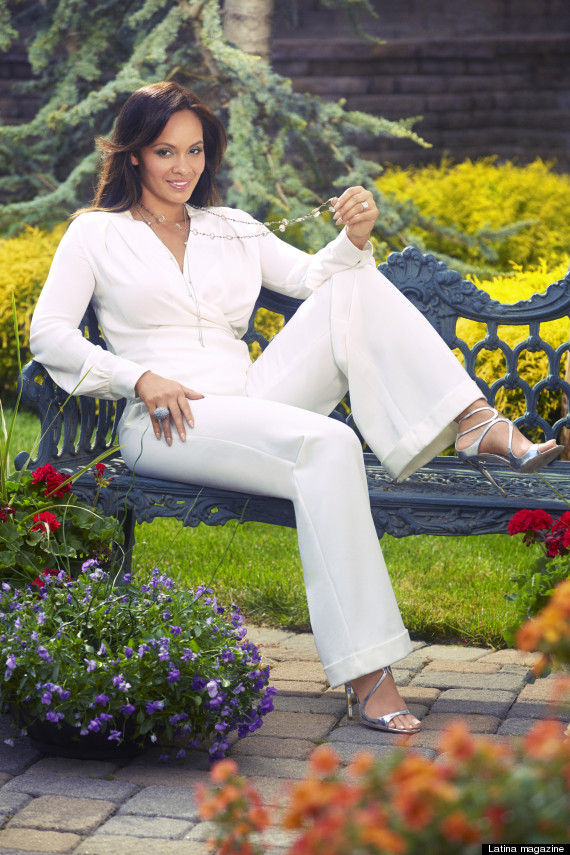 BEFORE YOU GO
PHOTO GALLERY
Afro-Latinas Conquering Hollywood! (PHOTOS)