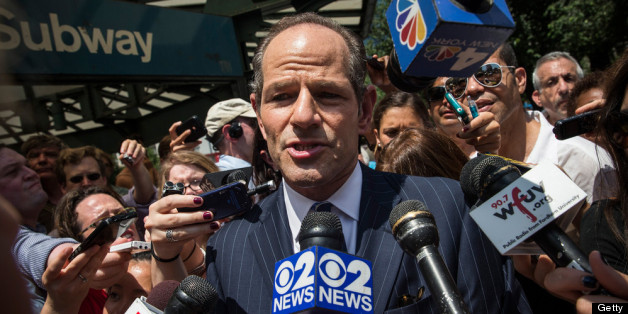 New York City has another scandal comeback story. Political science says second acts are possible, but past polling shows Spitzer has bigger problems than just his history. And pollsters keep getting younger. This is the HuffPost Pollster update for Monday, July 8, 2013.
SPITZER'S BACK - AP: "Former New York Gov. Eliot Spitzer jumped back into the high-profile world of politics Monday after his decision to run for the New York City comptroller's office, years after he was caught in a prostitution scandal that culminated in one of politics' steepest falls from power." [HuffPost]
Bigger challenge than Weiner's? - The Guardian's Harry Enten reviews past survey data and concludes that "Spitzer's run seems less likely to succeed" than the New York City mayoral campaign of former Democratic Rep. Anthony Weiner: "The last poll in 2011 before Weinergate had the then congressman with a slim single-digit lead in the mayoral primary. That tends to match up with the last poll of his aborted 2009 run. Weiner's net favorable rating in New York City at that point was +18pt, with 55% of voters not holding an opinion of him. That suggests he had room to rise...Spitzer, on the other hand, was quite disliked before his scandal...The month before scandal hit, Spitzer's net approval rating in New York City was --17pt – and almost everyone had an opinion of him. Only 23% of New York City voters wanted him to seek re-election (pdf), while 51% preferred someone else...New Yorkers [also] viewed Spitzer's scandal as worse than Weiner's When asked whether or not Weiner did something illegal, only 13% of New Yorkers said yes. This is likely the reason why 51% of New York City residents said he should not resign, after his scandal. Spitzer faced a far more judgmental public, as 36% of New York City residents thought he should face criminal charges – 23pt higher than Weiner. Then, 62% of New Yorkers wanted him to resign – nearly 50pt higher than Weiner. And 54% of them wanted him impeached, if he didn't resign." [Guardian]
Political science: timing is right - The Washington Post's Dylan Matthews finds some research to back up "anecdotal evidence that voters are willing to forgive and forget" the misdeeds of politicians like Weiner and Spitzer: "A study released in the Social Science Quarterly last month — by Rodrigo Praino and Vincent Moscardelli at the University of Connecticut and Daniel Stockemer at the University of Ottawa — looked at every U.S. House race between 1972 and 2006 and compared the outcomes of races where a member had been referred to the House Ethics Committee (88 in total, over that period) to non-scandal races (7,693 overall)...When you control for other factors, like the amount spent on the campaign by each side, the national tilt of that year's election, and the partisanship of the House member's district, having an issue referred to the ethics committee reduces a member of Congress's margin of victory by about 14.5 points, on average...four years after the scandal there's barely any difference between [those] candidate who are investigated and those who are not. [WaPost]
No polls - Spitzer, as quoted by the New York Times' Michael Barbaro: "I have not done one stitch of polling. I have none other than the experience and data of walking down the street. I used to say to the folks that did polling for me, 'I live in a focus group.'" Spitzer did quite a lot of polling in his 2006 campaign and as governor, including $144,800 for "polls" paid to his polling firm, Global Strategy Group, during the first two years of his first term as governor (the firm also received hundreds of thousands of dollars for "consulting" for Spitzer, partly because they also handled the purchase of television advertising time). However, the Spitzer 2010 committee closed with a $0 balance in April 2011 and had paid for no polling since 2008. [NYTimes, NY Board of Elections]
More New York City polling to come Siena College release: "The Siena College Research Institute (SRI) and The New York Times will collaborate on polling in the 2013 New York City mayoral election. The first "New York Times/Siena College Poll" will be released within the next two weeks and will gauge the attitude of New York City voters on the candidates and issues in the major party primary elections, which are nine weeks away." The release doesn't specifically note whether the comptroller's race will be included. [.pdf]
CHOCOLATE/PEANUT BUTTER '16 - Bryan Magee: "On the highly divisive topic of the best Hershey's candy, a Harper Poll released Monday shows a clear plurality for Reese's Peanut Butter Cups...It's surprising a divisive and controversial ingredient like peanut butter is able to achieve a plurality; but, much like elections in the parliamentary system, a party outside the mainstream can win the most seats if the moderate vote is divided. The pure chocolate vote between Kisses and standard chocolate bars (28%) is surprisingly anemic. And it's clear from these results that proponents of peanut butter are united behind their candidate. As with any poll conducted by a partisan pollster, the results should be taken with a grain of salt. Or a glass of milk." [PoliticsPA]
"SUPPORT FUTURE POLLSTERS" - Writer and social media consultant Marcella Campbell took to Twitter to share her 8-year-old's weekend project. A survey: "My 8yo's so love with data now (thanks, @DIY!) that he made his own public transit survey. Take it and make his day!" How many responses so far? "986 as of [2:51 p.m.] today -- his original goal was 50." [@Marcella, h/t @MikeMokr, @skoczela ]
Advice for an aspiring pollster? - As pollster Mike Mokrzycki notes, young Mr. Campbell's Survey Monkey questionnaire is "better...than some by grownup pros." But do our knowledgeable readers have any tips for the aspiring pollster on how to make sense of the data he's collecting (from, yes, a non-probability sample)? Drop us a line (at pollster@huffingtonpost.com) and we'll share your advice here tomorrow!
MONDAY'S 'OUTLIERS' - Links to more news at the intersection of polling, politics and political data:
-64 percent of Americans want their children to avoid a career in politics. [Gallup]
-More Americans say they turn to television rather than the internet as a source for current events, even among 18 to 29 year olds. [Gallup]
-New York re-certifies its vote, finds 1,579 more ballots cast in November 2012. [NY Daily News]
-Harry Enten sees no hope for Wendy Davis in Texas. [Guardian]
-Dan Hopkins finds that George W. Bush did better in 2000 in towns with access to Fox News. [WaPost]
-Jim Hobart notes that Facebook is far more dominant than Twitter among 18 to 29 year olds. [POS]
-Brad Plumer adds up "lost productivity" studies and finds them collectively overstated. [WaPost]
-Reg Baker asks if "research on research" is the real deal. [The Survey Geek]
-Charles Franklin tries his hand at predicting Pixar box office receipts, anticipates $348 million for Monsters U. [@pollsandvotes]
-The Cartoon Introduction to Statistics gets a favorable review. [Paste via @Jenn Agiesta]
-Hanna Kang-Brown explores the intersection of food and Census data. [NPR]
POLLSTER UPDATE VIA EMAIL! - You can receive this daily update every weekday via email! Just enter your email address in the box on the upper right corner of this page, and click "sign up." That's all there is to it (and you can unsubscribe anytime).