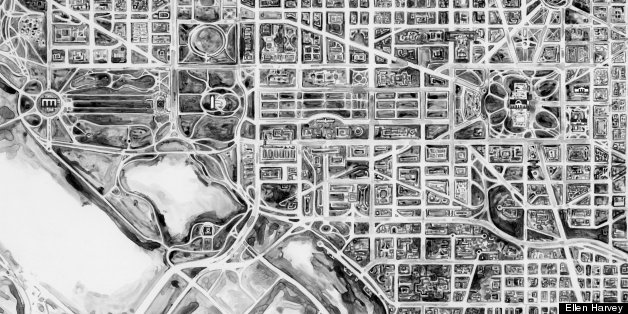 WASHINGTON -- The aliens are coming, the aliens are coming!
Or, at least, they're coming in the next 10,000 years after human civilization has been wiped off the planet, according to history as depicted by artist Ellen Harvey's new exhibition at the Corcoran Gallery of Art.
"The Alien's Guide to the Ruins of Washington, D.C." takes place thousands of years in the future and gives its alien archaeologists a look back at the Washington that once was. Harvey imagines a city devoid of human life but brimming with architectural ruins.
A tour of America's capital city through alien eyes, the exhibition's centerpiece is a self-guided map of Washington's landmarks. Available for pick-up at the Corcoran's alien visitor center as well as other locations throughout the city, The Alien's Guide contains reconstructions and interpretations of such sites as the White House, the World War II Memorial, and the U.S. Capitol.
Part of the Corcoran's contemporary art NOW series, "The Alien's Guide" helps extraterrestrial visitors make sense of a long-gone society: humans.
Click through the slideshow for a peek inside the exhibit:
PHOTO GALLERY
The Alien's Guide to the Ruins of Washington, D.C.
"The Alien's Guide to the Ruins of Washington, D.C." runs through October 6. See it free on Saturdays as part of the Corcoran's Free Summer Saturdays initiative, through August 31.
BEFORE YOU GO
PHOTO GALLERY
Active SETI: Attempts To Communicate With Aliens
PHOTO GALLERY
UFOs? Maybe They're Just...