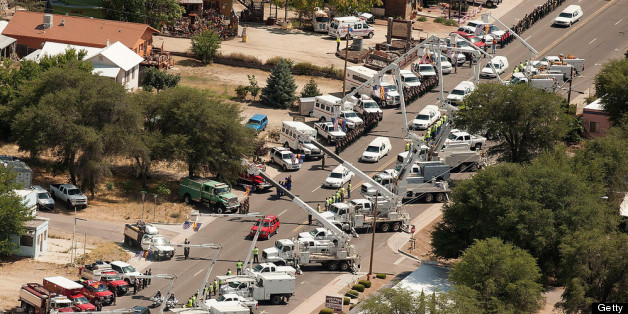 By Tim Gaynor
PHOENIX, July 9 (Reuters) - Thousands of mourners, including firefighters from around the country and U.S. Vice President Joe Biden, were expected to converge in central Arizona on Tuesday to pay final tribute to 19 young firemen killed last week in the line of duty.
The fallen members of the Granite Mountain Hotshots, an elite firefighting squad from Prescott, Arizona, were overrun by flames on the afternoon of June 30 as they battled a lightning-sparked blaze with hand tools outside the tiny town of Yarnell.
The tragedy marked the greatest loss of life from a U.S. wildfire in 80 years, and the highest number of American firefighters killed in a single incident since the Sept. 11, 2001, attack on the World Trade Center in New York.
Precise circumstances of the firefighters' deaths in Arizona remain under investigation.
But authorities have said the 19 specially trained firefighters, most of them in their 20s, apparently became trapped in seconds as a burst of gale-force winds from an approaching thunderstorm drove flames back in their direction.
The team quickly deployed cocoon-like personal protective shelters in a last-ditch effort to take cover, but some of the men never even made it into the foil-coated capsules.
The disaster sent waves of shock and grief through the firefighters' hometown of Prescott, a city of 40,000 people some 60 miles (100 km) northwest of Phoenix, the state capital.
"Many of the people in this town knew some of those firefighters, or at least knew some of their families," said David Eaker, a spokesman for organizers of Tuesday's memorial service.
The event was scheduled for late morning at an entertainment and sports arena in the adjacent town of Prescott Valley. Organizers set up overflow space outside to handle a crowd expected to exceed the arena's seating capacity of around 6,000.
Biden was slated to lead a group of dignitaries also set to include U.S. Homeland Security Secretary Janet Napolitano and Arizona Governor Jan Brewer, as well as representatives of fire departments from across the United States. Biden and Brewer will speak at the event.
The sole surviving member of the Granite Mountain team, Brendan McDonough, was scheduled to read an offering titled "The Hot Shot's Prayer." McDonough was acting as a lookout for the crew about a mile (1.5 km) away from his colleagues and on higher ground when they were overrun by flames. He escaped unhurt.
While the memorial service is open to the public, individual funerals for the fallen firefighters are to be held privately in coming days, Eaker said.
On Sunday, a solemn procession of 19 white hearses escorted by police on motorcycles brought the remains of the fire crew home to the Prescott area from Phoenix, where autopsies were performed. But the caskets will not be present for Tuesday's service.
The so-called Yarnell Hill fire, one of dozens of wildland blazes that have raged across several western states this summer, charred 8,400 acres (3,400 hectares) of thick, tinder-dry chaparral, oak scrub and grasslands after erupting on June 28. Scores of homes in and around Yarnell were destroyed.
As of Monday, crews had managed to carve containment lines around 90 percent of the smoldering fire's perimeter. Evacuation orders also were lifted for the last of the residents forced from their homes more than a week ago in Yarnell and the nearby town of Peeples Valley. (Editing by Steve Gorman and Mohammad Zargham)
BEFORE YOU GO
PHOTO GALLERY
Arizona Firefighters Remembered