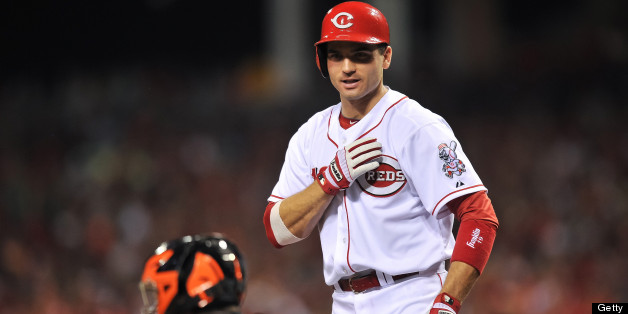 When Ohio man Jeff Crews was diagnosed with a terminal brain tumor last month, he was given four to six weeks to live. So live he did.
In a public blog devoted to Crews, his family details the 62-year-old's final month, using photos and descriptions of his daily experiences. One of the more touching posts -- first spotted by The Big Lead -- describes when Cincinnati Reds star Joey Votto brought the fan to last week's Reds-San Francisco Giants game.
As it turned out, the baseball game would be Crews' last -- he passed away two days later. But the Ohio man's family said the July 2 game, which turned out to be a no-hitter for Reds pitcher Homer Bailey, was a memorable experience for the sports fan.
"Jeff literally had to hold his chin up because it kept falling down in disbelief at what we were experiencing," Crews' family writes, explaining that the Reds provided fantastic seats for the game and passes for batting practice. "Joey Votto couldn't have been a nicer, more humble, and down to earth guy. [all sic]"
Votto is not the first to go the extra mile for an ailing fan. In May, Matt Kemp of the Los Angeles Dodgers took the shirt off his back for a fan with terminal cancer, giving the man his game-worn jersey, hat and shoes.
Crews' memorial service will be held on July 10 in Centerville.
Click over to Crew's Wordpress blog to read more about Votto's compassionate act for a fan with cancer. Check out a photo of the pair at the Reds game (below). BEFORE YOU GO
PHOTO GALLERY
11 Inspiring Olympians