The It Gets Better Project announced that today, July 9, is Kevin Keller Day and to celebrate they have released their own video starring the creator of the Archie Comics character, Dan Parent, talking about how Kevin came to be.
For those of you not checking out the comic stands every Wednesday, Kevin Keller is the gay character who was introduced into the Archie universe back in 2010. The first issue in which he made an appearance, "Veronica" #202 (as a crush of Veronica's), went onto become the first Archie comic to sell out in the comic's 70-year history.
Since then he has gone on to star in his own (GLAAD Media Award-winning) comic series, a young adult novel, and next month he will experience his first kiss in issue ten of "Kevin Keller."
While readers and comic lovers have embraced Kevin, not everyone is such a big fan... namely One Million Moms. Last year the conservative "family" organization threatened to boycott Toys 'R' Us if they sold the latest issue of "Life With Archie," a comic series that looks at possible futures of the characters, and a specific issue featuring the marriage of Kevin Keller.
Toys 'R' Us decided to sell the comic anyway, helping the issue to sell out its initial run, and now Keller's creator, Parent, says that the upcoming kiss is a "playful poke" at that protest.
For those of you who can't get enough Kevin, his first kiss issue is out August 7, and there's also talk he will play a prominent role in the upcoming Archie movie which being currently developed.
Watch the Kevin Keller "It Gets Better" video above.
CORRECTION at 2:30pm ET July 10: The original version of this article misidentified the relationship between Toys 'R' Us and "Life With Archie" issue #16.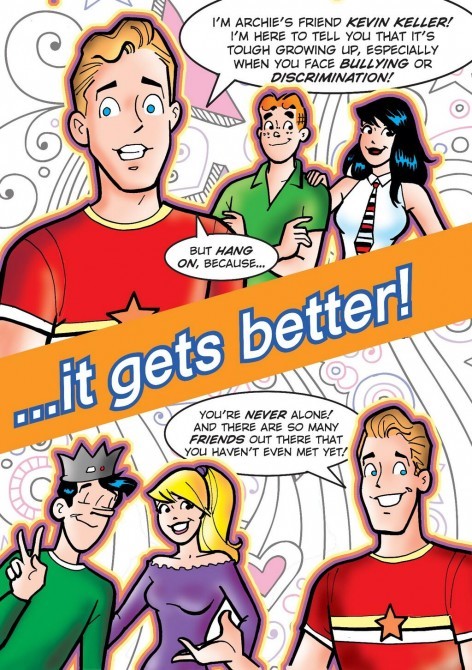 BEFORE YOU GO
PHOTO GALLERY
13 LGBT Comic Book Characters