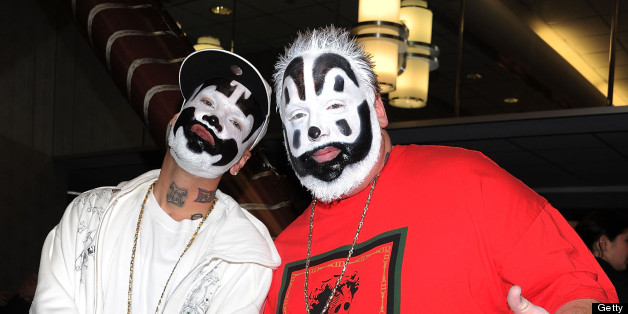 Rapping isn't easy, and when it's not done well it's just downright cringeworthy.
There are plenty of terrible example that come to mind, but GQ writer Rob Tannenbaum has assembled his own list of "The 25 Worst Rappers of All Time." Taking the top (dis)honor is none other than the Insane Clown Posse.
The list also predictably includes former MTV "The Hills" star Spencer Pratt, Tom Hanks' son Chet Haze, Vanilla Ice, Kevin Federline and Madonna. But Tannenbaum's inclusion of the Too $hort and Eazy-E has sparked some ire.
"Not only does this exercise in abject trolling misunderstand how hip-hop works -- wow, Ice Cube wrote Eazy's raps for him/ Next you'll be telling me Dr. Dre doesn't write every rhyme either! -- but it lazily beats up on artists who don't even get much respect in the first place," complained Complex writer David Drake, who deemed GQ's list a "disaster."
Whether you agree with the list or not, Tannenbaum seems prepared for all the flack that's inevitably going to come his way, as he tweeted:
Thanks to GQ for letting me pick the 25 Worst Rappers of All Time & to ppl on Twitter 4 letting me know I'm an idiot. http://t.co/NQdzuMD1l6

— Rob Tannenbaum (@tannenbaumr) July 9, 2013
Click over to GQ to find out who else made the list of The 25 Worst Rappers of All Time.
CORRECTION: An earlier version of this article indicated that Eazy-E and Too $hort were in Insane Clown Posse. This is, of course, not true, and the text above has been refined to reflect as such.
BEFORE YOU GO
PHOTO GALLERY
Celebrity News & Photos