"Me and my girlfriends gonna push on through / Riot grrrls gonna stomp on you..." singer Kathleen Hanna wails in Bikini Kill's song, "This Is Not A Test."
The feminist punk movement took American and UK culture by storm in the early 1990s. Filled with angry lyrics, self-published zines and a refreshing dose of third-wave politics, the underground revolution known as riot grrrl was -- and continues to be -- a biting voice against the patriarchal powers that be.
Two decades later, the legacy of the movement is receiving some overdue attention in the form of a book titled The Riot Grrrl Collection. Compiled by New York University senior archivist Lisa Darms, the giant survey is an ode to the grunge aesthetic of the era, revealing manifestos, love letters, flyers, collages and essays taken straight from feminist zinesters like Johanna Fateman (of Le Tigre and Men) and more.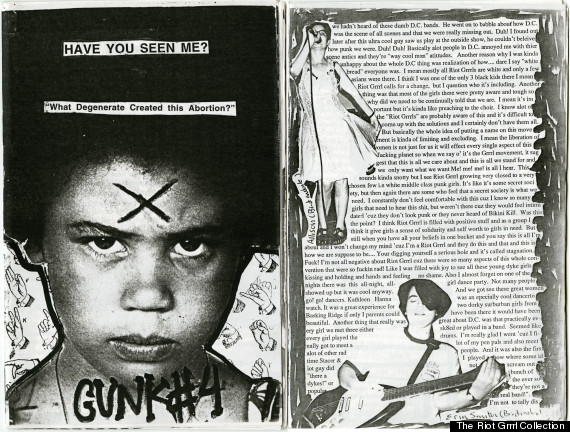 The collection is a vibrant and shocking trip through the DIY culture of Olympia, Washington and later Brooklyn, New York, highlighting the exchange of ideas just before the digital age. Photocopied flyers did the job of tweets, while cut-and-paste collages preserved passing inspirations in lieu of Tumblr. And, of course, the zine reigned supreme, spreading the words of artists, musicians and activists before "viral" was used as an internet term.
"Whatever riot grrrl became -- a political movement, an avant-garde, or an ethos -- it began as a zine," Fateman writes in the book's introductory essay. "In the place of scene reports, record reviews, and travel diaries, we asserted a more abstract world of memory and self-reflection, filtered through our new, unforgiving feminist analyses."
Whether you consider yourself a Rebel Girl or you crave a raw approach to political writing, scroll through the images below for an intimate preview of "The Riot Grrrl Collection," available through The Feminist Press.
PHOTO GALLERY
The Riot Grrrl Collection