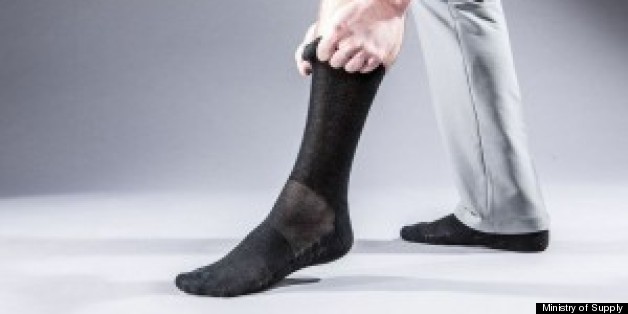 You take your shoes off after a long day of work, only to be greeted by a pungent odor rising from your socks. It's a familiar scenario which can be inconvenient, embarrassing and downright gross. Now, Ministry of Supply thinks it has a solution.
The Atlas socks are a high-tech version of traditional dress socks. Specially engineered to provide comfort at key pressure points on the foot, Ministry of Supply uses a robotic knitting process — sort of like 3D printing — to make the socks. What's more, the fibers are infused with carbonized coffee grounds which supposedly absorb odor.
More from Forbes:
-- 8 Hot Industries for Startups in 2013
-- The 10 Best Cities For Young Entrepreneurs
-- The 10 Best Careers For Wannabe Entrepreneurs
"We use technology to design performance professional wear," said Gihan Amarasiriwardena, M.I.T. engineering grad and co-founder of Ministry of Supply. "We do things like thermal imaging and pressure mapping as well as strain analysis – technologies that are traditionally used in aerospace and very rarely used in apparel."
I put these caffeinated sports-sock-meets-dress sock to the test, wearing them every day for the duration of a five day workweek.
For the first two days, much to my surprise, the socks were entirely scent-free. On day three, the toes of the socks began to smell slightly, while the cushioning pads on the length of the socks remained completely odorless. By Friday, the toes were decidedly fragrant, but the rest of the sock miraculously still did not smell.
The Future Of Dress Shirts Is Here — And It's Sweat-Free
Ministry of Supply are getting plenty of online support — their Atlas Kickstarter has raised over $123,000 so far, surpassing their $30,000 goal in less than 24 hours. It's not their first crowdfunding success — last year the team raised $429,000 on Kickstarter for their sweat-free Apollo dress shirt project, becoming the most-funded fashion project of all time.
"We've had about 7,000 happy customers [so far]," said Amarasiriwardena. "We're getting about 38% growth in sales month over month through our e-commerce site."
As Ministry of Supply looked to expand, the inspiration for their next product came from co-founder and former consultant Aman Advani, who would sew the tubes of his dress sock onto his running sock to get the cushioning of a sports sock while still looking professional.
So why return to crowd-sourced funding, rather than seeking investment elsewhere?
"We love the Kickstarter community – they really value technology and design," explained Amarasiriwardena. He estimated about half of the Atlas Kickstarter supporters also invested in their dress shirt campaign.
"We're ecstatic about having a community of people who are really excited about creating a new industry from scratch," agreed Kit Hickey, co-founder of Ministry of Supply.
The industry of performance professional wear is an expanding one, with companies like SmartWool, Outlier and Mizeen&Main also developing high-tech clothing.
Ministry of Supply plans to put the $20 socks on sale through their online store just in time for the holiday season. For hygiene's sake, I would not recommend wearing any pair of socks for a week, but it seems the Ministry of Supply's do what they say on the label. Here's to a future of smell-free footfall.
Follow me on Twitter and Instagram @natrobe.
BEFORE YOU GO
PHOTO GALLERY
Craziest Crowdfunding Projects That Actually Worked: CNBC