A suburban Chicago man's distinctive tattoo helped police make an easy ID after he was arrested along with his accomplice and both were charged with robbing a Chicago donut shop and convenience store.
Brian Lykins and Emil Niemi, both 27, are suspected of knocking off a West Side convenience store on June 17 and again June 27, as well as a Dunkin Donuts on the far West Side on June 20. The Sun-Times reports Lykins faces two felony counts of aggravated robbery while Niemi faces one felony count of aggravated robbery.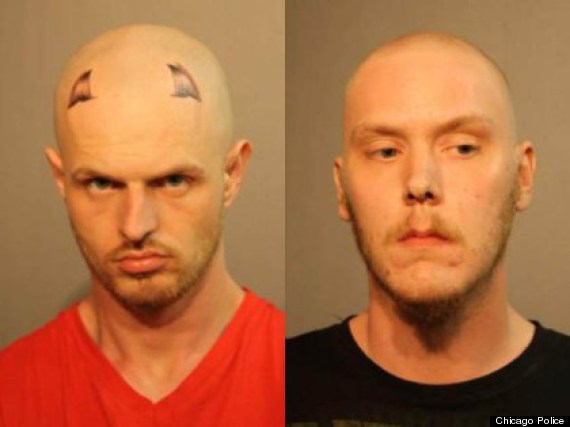 Brian Lykins (L) and Emil Niemi (R) are accused of robbing a donut shop and twice robbing a convenience store on the Northwest Side.
The pair were nabbed just before 8 p.m. Friday when officers patrolling the area in the 5400 block of West North Avenue spotted them in the black Mazda that was described in the three previous robberies, DNAinfo Chicago reports.
Descriptions from the robberies indicate both men were bald and Lykins, a convicted felon, had a pair of horns tattooed on his head. After conducting a traffic stop, the Guardian Express reports police noticed a black t-shirt inside the car that was worn by one of the men during one of the robberies.
Niemi was ordered held on $100,000 bond and is next scheduled to appear in court July 26. Court information for Lykins was not immediately available.
BEFORE YOU GO
PHOTO GALLERY
11 Of The Dumbest Criminals Ever (PHOTOS)