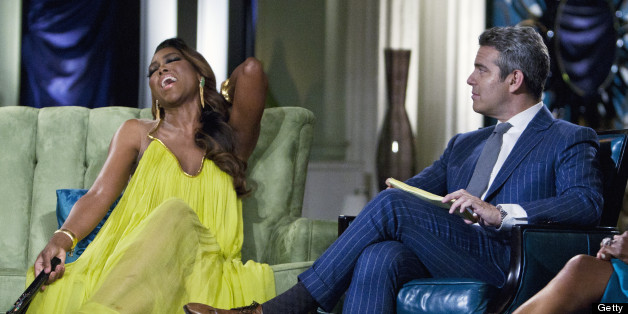 Kenya Moore's bitter eviction case with her landlord, Conya Dillon, finally came to an end on Tuesday as the reality star vacated her rented Roswell, Georgia mansion.
According to various reports, the "Real Housewives of Atlanta" star began to remove her personal items from the property prior to attending a follow-up hearing for the case in a Fulton County courtroom.
Although the final outcome resulted in Moore vacating the six-bedroom, six-bathroom estate, the 42-year-old continues to remain optimistic by addressing the day as a "victory" and says that "celebrities can fight back and not be victimized by people who wish to lie about them and use their name for the sake of publicity," she told RadarOnline.
Despite the reality star's thoughts on the case, Dillon was disappointed in Moore's actions while renting the home and accused her of living a fake life.
"I am blessed and very relieved she has to vacate my home," Dillon revealed to the celebrity news and gossip site. "I don't care what Kenya is telling everybody… She lied about renting the home and about her boyfriend, amongst other things. She begged me to lease my home and live a pretend lifestyle she couldn't afford. She will get hers in the end – no doubt… I don't live a fake life."
She continued, "I am disappointed that Kenya hasn't used her pageant life experience to be more of a model citizen for young girls. She is definitively no role model. It is apparent that she is lonely, bitter and very unhappy."
As the courtroom battle came to an end, Moore took to her Twitter account to quote one of Ice Cube's biggest hits;
"Today was good day"-Ice Cube

— KENYA MOORE (@KenyaMoore) July 10, 2013
BEFORE YOU GO
PHOTO GALLERY
Kenya Moore Photos