Lovely to look at, but smelly. So very smelly.
The titan arum -- the world's stinkiest flower -- will be in bloom soon at the D.C.'s U.S. Botanic Garden Conservatory.
It blooms a beautiful purple hue, but that's where the loveliness starts and ends.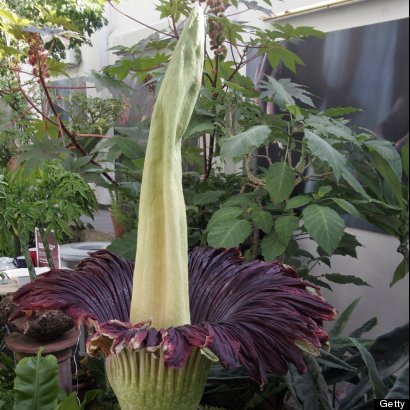 This plant, better known as the "corpse flower," is infamous for its smell. Take a deep breath and your nostrils will fill with the wonderful scent of rotting flesh, at least that is how most describe it. The plant also generates heat, which, according to WTOP, helps its odor travel further, so that more people can experience its flower power.
The flower hasn't bloomed at the gardens near the Capitol since 2007, and does not have a predictable blooming cycle. Corpse flowers typically bloom for 24 to 48 hours before closing back up, hiding their stench until the next blooms.
Why the stench?
The plant, which was discovered by Europeans in 1878 in Indonesia, gives off an odor that, while unkind to human noses, attracts pollinators like beetles and flesh-flies.
If you want to check out the District's most foul flower, the Botanic Gardens expect it to be in bloom at basically any moment. For those who want to keep track of the flower, to check if it is in bloom or to see it in all its glory without the stench, the Botanic Garden has set up a webcam. If you do plan to visit the flower in person, we urge you to bring at least one clothespin per nose.
Update and Correction: An earlier version of this story stated that the flower is already in bloom. It has been updated to reflect that the flower is not yet in bloom as of July 16.
PHOTO GALLERY
Corpse Flower
BEFORE YOU GO
PHOTO GALLERY
Animals In The News