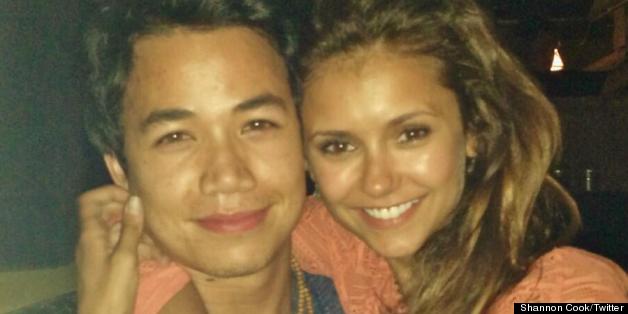 Nina Dobrev is now a superstar on The CW's hit series "The Vampire Diaries," but the 24-year-old Canadian actress isn't too big to revisit her roots.
The actress played teen mom Mia Jones on the Canadian soap "Degrassi: The Next Generation," and while she was hanging out with her former co-star Paula Brancati (who played Jane Vaughn on the hit teen series), they ran into another former co-star, Shannon Kook. The three hung out at a bar called Supermarket in Toronto's Kensington Market.
They look very happy to see each other, as per the Twitter photos and responses below:
Reunion caption: "omg Shannon, can't believe we ran into you at a parking lot!" "@PaulaBrancati: @shannonkook pic.twitter.com/fC9CTkXDqz"

— Nina Dobrev (@ninadobvre) July 9, 2013
Open Mic at Supermarket - #KensingtonMarket @ninadobrev pic.twitter.com/lJIuMyMxPG

— Shannon Kook (@SHANNONKOOK) July 9, 2013
Sur Le Red Carpet de Kensington Market @ninadobrev pic.twitter.com/2JdasEEBif

— Shannon Kook (@SHANNONKOOK) July 9, 2013
Kook, who played gay high schooler Zane Park on "Degrassi," can next be seen in the horror film "The Conjuring," which hits theaters July 19.
But Dobrev, Brancati and Kook aren't the only "Degrassi" alumni to catch up recently. In January, Aubrey Graham -- who's now known as Drake, but was formerly known (at least to fans of the Canadian teen drama) as Wheelchair Jimmy -- and his former "Degrassi" co-star Shane Kippel (who played Spinner) reunited at a rap battle. The Grammy-winning rapper has never been shy about his teen TV drama past, even rapping, "I'm the same little boy that used to play up on Degrassi" in his song "Ransom," featuring Lil' Wayne.
Check out Drake's "Degrassi" reunion with Kippel below.
The reunion with @drake. Congrats to @905arcane, and thanks to @ryanpvpkotd and @scottjacksonbb for the sik time. KOTD twitter.com/shaneykipps/st…

— Shane Kippel (@shaneykipps) January 27, 2013
Though Drake, Kippel, Dobrev, Brancati, Kook have since graduated, see a new batch of students on "Degrassi: The Next Generation," Thursdays at 9 p.m. ET on Teen Nick.
PHOTO GALLERY
TV Reunions We Want To See