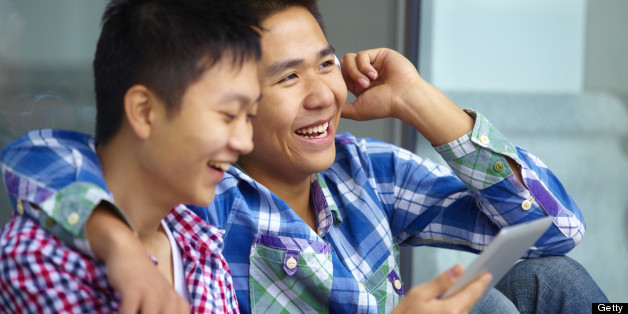 Lesbian, gay, bisexual and transgender (LGBT) youth experience nearly three times as much cyber-bullying and harassment online as non-LGBT youth, but the Internet can also be an invaluable tool in their development, a new report has found.
GLSEN's "Out Online: The Experiences Of LGBT Youth On The Internet" surveyed a total of 5,680 students in grades 6-12. Officials say the poll is the first of its kind to take an in-depth look at the online experiences of LGBT youth.
Among the other findings: one out of four LGBT youth (or 26 percent) said they had been bullied online specifically because of their sexual orientation or gender expression in the past year, while one out of five (18 percent) said they had experienced bullying and harassment for these reasons via text message.
On the flip side, two-thirds of LGBT youth (62 percent) had used the Internet to connect with other LGBT people in the past year, while 50 percent of LGBT youth reported having at least one close online friend, compared to only 19 percent of non-LGBT youth.
"LGBT youth continue to face extraordinary obstacles in their day-to-day lives whether at school or online, but the Internet can be a valuable source of information and support when they have no one or nowhere else left to turn to," Dr. Eliza Byard, GLSEN's Executive Director, said in an email statement. "As social media evolve, so must our efforts to serve LGBT youth to ensure their safety, health and well-being."
Added Dr. Michele Ybarra, President and Research Director of the Center for Innovative Public Health Research:
"[The Internet] also offers LGBT youth critical tools for coping with these negative experiences, including access to understanding and accepting friends, and exposure to health information that is unavailable elsewhere."
Check out more about the GLSEN survey here.
View a selection of findings from "Out Online: The Experiences of LGBT Youth on the Internet" below:
BEFORE YOU GO
PHOTO GALLERY
GLSEN's 'Out Online' Survey Results