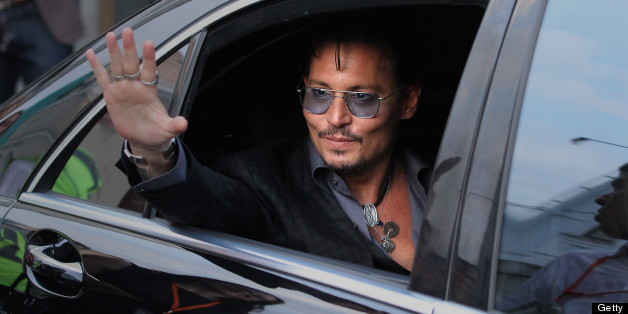 Just last week, many were left wondering what happened to the old Johnny Depp? Now, that guy might be coming back: According to TheWrap, Depp is attached to star in "Mortdecai" for writer-director David Koepp ("Jurassic Park," "Mission: Impossible"). Depp and Koepp previously worked together on the film "Secret Window."
The film, based on the book "The Great Mortdecai Moustache Mystery" by Kyril Bonfiglioli, is a comedic crime thriller. Per TheWrap, Warner Bros. was developing the property for years before bowing out; Lionsgate will now distribute "Mortdecai."
"It's a very funny series of books and a very interesting character," Depp told BuzzSugar during an interview back in June.
The quirky comedy represents a shift for Depp, who has languished under heavy make-up to diminishing returns in recent films like "The Lone Ranger," "Dark Shadows" and "Pirates of the Caribbean: On Stranger Tides." Not that Depp is leaving the big-budget features that have become his calling card behind: The actor will actually film "Mortdecai" between shooting a supporting part in "Into the Woods" and leading "Pirates of the Caribbean 5."
Depp has come under heavy criticism for his choices of late ("Johnny Depp and the 'Lone Ranger' Flop: Is His Career Doomed?" read a headline on The Daily Beast after the failure of "The Lone Ranger"), but the actor has shown at least some interest in returning to his non-Jack Sparrow roots. He had been rumored to star in Wes Anderson's next film, "Grand Budapest Hotel," before Anderson shot that down in an interview with HuffPost Entertainment. Depp, however, is making "Transcendence," a thriller from Christopher Nolan's long-time cinematographer Wally Pfister.
For more on "Mortdecai," head to TheWrap.
[via TheWrap]
PHOTO GALLERY
Johnny Depp