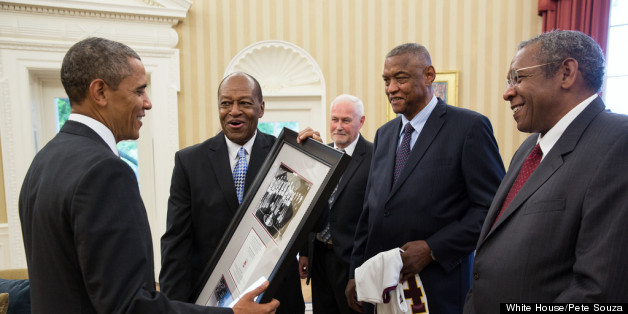 It's been a half-century since the men's basketball team of Loyola University in Chicago won the 1963 NCAA championship and in the process knocked down longstanding racial barriers in their historic "Game of Change" versus Mississippi State.
During a special reception in the Oval Office Thursday, President Barack Obama welcomed members of of the team to mark the 50th anniversary of their history-making turn the Tribune says helped promote racial integration in college basketball.
Story continues below
PHOTO GALLERY
'Game Of Change' 1963 Loyola Basketball Team
In '63, under an unwritten state law, Mississippi schools were forbidden from playing against integrated squads, including Loyola's integrated squad that featured four black starters. With the two teams set to face off in the NCAA regional semi-finals, Mississippi's coach defied the state's segregationist Governor Ross Barnett and snuck the team out of state "under the cover of night" to play the game in Michigan.
The Ramblers went on to win the "Game of Change" 61-51, and clinched the title after upsetting reigning champions, Cincinnati, 60-58, in overtime.
Captain of the '63 squad, two-time All-America selection Jerry Harkness said called the experience in DC "unbelievable."
"I feel like this trip has brought everything full circle," Harkness said. "We have been told by so many different people that we have accomplished a lot. But now, to have the opportunity to meet President Obama, we have reached the zenith of all of this. You realize you have accomplished something incredibly special when you are recognized by the President."
Loyola Assistant Vice President and Director of Athletics Dr. M. Grace Calhoun said the historic game "served as a vehicle to challenge segregation and helped to forever change college basketball and civil rights in this country."
The team was also honored Wednesday by Illinois' U.S. Senators Mark Kirk and Dick Durbin along with Rep. Mike Quigley, according to NBC Chicago.
Loyola's 1963 team will be inducted into the Chicagoland Sports Hall of Fame on September 18 and according to Loyola's athletics department, will become the first team ever to be enshrined in the National Collegiate Basketball Hall of Fame in Kansas City later this November.
BEFORE YOU GO