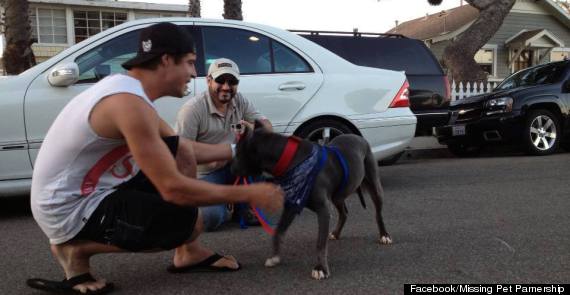 It took one pet detective, two nonprofits and 30 shifts of driving 2,500 miles, but Smoke the pit bull finally made it home after disappearing for three years.
Eric Hough, a Huntington Beach, Calif., resident, said his beloved pup went missing after he had asked a tenant to move out three years ago, the Los Angeles Times reported. After he disappeared, the dog somehow eventually made it to a shelter in Titusville, Fla., and though he had a microchip, the information was outdated -- which initially kept volunteers from tracking down Smoke's owner.
But once the shelter put Smoke up for adoption, Ryan Gamache -- a Seattle-based "pet detective" -- caught wind of the situation online and decided to get involved.
"I love those hard cases, so I picked it up," Gamache, who volunteers with nonprofit the Missing Pet Partnership, told ABCNews.com. "It took quite a bit of effort to find Eric, and then it was even harder to get him to sit down and listen."
Once Gamache tracked down an utterly shocked Hough, he solicited the help of Kindred Hearts, a nonprofit that transports adopted and missing pets. The committed group of volunteers divided up the 2,500-mile trip into 30 legs and covered the hefty travel costs to return Smoke to his eager owner, according to ABC.
"This is amazing how people have come together all the way across the United States, and I didn't expect it to be like this," Gamache told the news outlet. "It's inspiring to watch. A lot of our cases don't always have happy endings."
And finally, on Sunday, the best friends had their long overdue reunion.
"Always use microchips with your pets, and never give up hope," Hough told CBSLA. "We did it, we brought Smoke home."

BEFORE YOU GO
PHOTO GALLERY
People Receive The Best News Ever