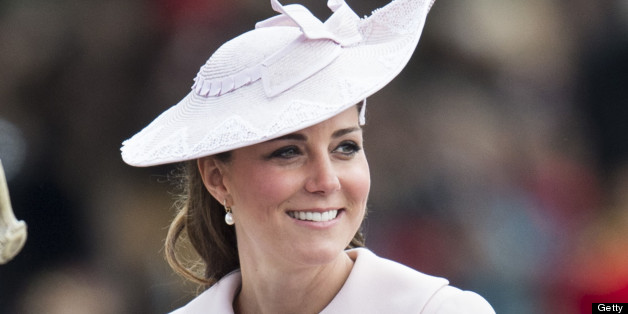 Hopefully Kate Middleton has put a lot of thought into the name of her royal baby, because the choice could affect lots of other United Kingdom mothers.
Netvouchercodes.co.uk, a U.K. discount shopping website, found that new U.K. moms are willing to leave their own newborns nameless in order to find out what Middleton and husband Prince William name their baby.
The company surveyed 400 new moms and found that more than 10 percent are hoping to postpone naming their children until Clarence House announces the royal baby's name, according to a press release obtained by The Huffington Post.
Moms can wait up to six weeks before they have to legally decide on a name. Meanwhile, Middleton is due any day now and Britain is currently on royal baby watch.
While some would like the royal couple to give their first child a unique name (one survey respondent said she'd be happy to see a Princess Angel or a Prince Dolphin), it is likely the prince and duchess will stick with something more traditional.
Coral Bookmakers, a U.K. bookmaking firm, revealed to People magazine the odds are stacked for a baby girl with the name Charlotte. Other top picks for a little princess include Alexandra, Elizabeth and Diane. If it's a boy, bettors think the couple will go with George or Frances.
"My husband and I have decided to wait to see what the royal baby is called before naming ours," one pregnant survey respondent told Netvouchercodes. "We have thought of quite a few names but we both decided it would be lovely to see what Will and Kate choose first. I love the name Alexandra so if we have a girl then it may well be the most straight forward decision we have to make."
Another mom-to-be said, "My baby is due before the royal baby, but I already know I definitely want it to have the same name. The birth of Will and Kate's baby is such a monumental event that is going to be remembered forever, just like the royal wedding. Giving my baby the same name is my personal way of celebrating."
"The birth of the royal baby is hugely exciting; when someone famous has a baby the naming of it can be important to many people," a spokesperson for Netvouchercodes.co.uk said in a statement sent to HuffPost. "Whatever name the royal couple choose there is no doubt that there will be thousands of babies who will also share the same name."
Media are camped outside St. Mary's Hospital in London, where Prince William was born 31 years ago, Reuters notes. The baby, who is third in line to the throne, will be delivered by Marcus Setchell, the Queen's former gynecologist. The gender of the child remains a mystery.
BEFORE YOU GO
PHOTO GALLERY
Royal Baby Watch In Action!