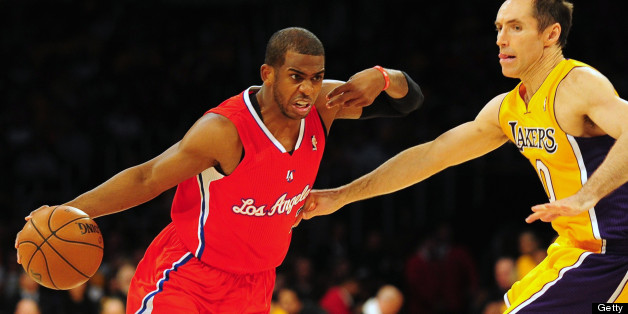 Free agency in the NBA, much like the draft, is hit-or-miss. When it works, it can make a good team great: Ray Allen and Chris Andersen, who were acquired in free agency by Miami, made all the difference during the Finals. But when it doesn't, a decent team can fall apart. And even if some -- but not all -- of the risk has been minizmied because of the amnesty clause, the wrong guy can put a franchise in a financial hole for years (Rashard Lewis and Amar'e Stoudemire come to mind).
With the 2013 free agency period shaping up, let's examine the big winners and losers:
Winners
Los Angeles Clippers
Chris Paul is the organization's first superstar and he actually stayed put! For five years! CP3 provides stability and maintains the Clippers as elite team in the West moving forward. Recently installed head coach Doc Rivers' defensive philosophy should trump anything that Vinny Del Negro ever brought to the table. It was also extremely important, if less flashy, that they brought in a knockdown shooter like J.J. Redick and a top-quality third guard in Darren Collison. Adding local product Jared Dudley and retaining small forward and ace defender Matt Barnes should also help this team in a big way next season.
Cleveland Cavaliers
The Cavs capped off a very active offseason by signing center Andrew Bynum to a one-year deal, with only $6 million guaranteed. Bynum will have to allay a slew of health concerns, but how often do 25-year-old big men with his talent come on the market, and so cheaply? They also nabbed free agents Earl Clark from the Lakers and Jarrett Jack, who's coming off a career season with the Warriors.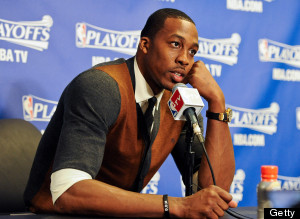 By not re-signing Dwight Howard, the Lakers dodged a significant bullet. (Getty Images)
Los Angeles Lakers
Yes, the Lakers -- the same team that whiffed on convincing Dwight Howard to re-sign might have actually blundered into the better deal. Howard never fully embraced his role in Title Town, and not because of his back, either. Assuming they don't deal Pau Gasol and his expiring mega-contract, the Lakers will have about $50 million to spend toward the 2014-2015 season. The short-term loss is a huge long-term gain: Suffer through one bad season, and then return to form.
Houston Rockets
Howard fits in well to their system and should immediately bolster Houston's position in the West. If the team can deal Jeremy Lin, who simply does not play well off of James Harden, that would be a nice plus. And while losing Carlos Delfino in free agency hurt, they did well to keep a defensive-minded player like Francisco Garcia, who can also shoot the ball.
Utah Jazz
At last, the Jazz are rebuilding and acquiring assets. Although the Jazz elected not to deal Al Jefferson or Paul Millsap at the deadline, they were able to pick up a couple of first-round draft picks from the Warriors. And even if Richard Jefferson and Andris Biedrins, who were part of the deal, don't add anything in the short term, their expiring contracts mean that, like the Lakers, the Jazz will be better off for the move in the long run. Recently added swingman Andre Iguodala improves Golden State on both sides of the floor. (AP)
Golden State Warriors
Another really good team in the Western Conference that got a lot better. Most notably, the Warriors brought in former Denver Nuggets small forward Andre Iguodala in a four-year, $48 million sign-and-trade. The price -- two future first-round picks to the Jazz and the inability to re-sign Jarrett Jack and Carl Landry -- was steep, but Iggy strengthens Golden State's overall athleticism, perimeter defense and slashing ability. His presence in Denver bumped the Nuggets' defensive efficiency from 19th to 11th, but he was also asked to be one of their go-to scorers. The Warriors already have Steph Curry and Klay Thompson in the backcourt, whose main deficiencies happen to be defense. Iggy makes this team a legitimate contender, and not just in the West.
Losers
Atlanta Hawks
Talk about missing out: Atlanta had hoped to convince Howard to ink a deal in his hometown, but that didn't happen, which is fine. But then the team lost free agent Josh Smith to Detroit, and had to sign Paul Millsap and Kyle Korver instead. If they don't extend point guard Jeff Teague, then this will have been a flat-out disaster of an offseason for Atlanta.
Milwaukee Bucks
Bucks did well to acquire 18-year-old Greek national Giannis Adetokunbo in the draft, but free agency has been another story. J.J. Redick is now gone, and Zaza Pachulia is not worth the $15 million, three-year contract he just signed to. This is an organization that wanted to build on a playoff appearance, and instead it took a significant step backward without any real sign of growth. O.J. Mayo and Carlos Delfino were nice pick-ups, but the Bucks have no compass right now and that is a very scary thing in the NBA.
Email me at jordan.schultz@huffingtonpost.com or ask me questions about anything sports-related at @Schultz_Report. Also, be sure and catch my NBC Sports Radio show, Kup and Schultz, which airs Sunday mornings from 9-12 ET, right here.