Dwight Howard, Josh Smith and Andre Iguodala are officially off the board, but a spate of top-quality free agents are just waiting to be had. Who will get paid, who will get really paid and who will be a bargain?
1) Nikola Pekovic, C, Minnesota (R)
One of the most underrated big men in the NBA, Pekovic pairs brute force with a nice touch around the hoop. Cleveland and Philly could both use his services, and both have the cap space to ink him to a multi-year deal. That being said, he could very well exercise his $6.1 million qualifying offer with the Wolves next season in the hopes of really getting paid next summer. Pekovic would be great for the Mavs even if he isn't the sexiest name.
Best Fit: Dallas
2) Monta Ellis, G, Milwaukee
Ellis officially fired his agent to make matters more strange for a guy whose market has dried up a bit. One of the most talented natural scorers in the game today, he is also an equally poor defender and tends to shoot a low percentage. Atlanta, having lost Jeff Teague to the Bucks, assuming it doesn't match the offer sheet, actually makes sense here, as does Dallas, who needs scoring punch.
Best Fit: Dallas
3) Brandon Jennings, PG, Milwaukee (R)
As I expected, Jennings' days with the Bucks appear to be numbered. Jeff Teague has signed the offer sheet and this happens to be a case where Jennings, a pretty darn good player in his own right, comes on the market at a very young age. Still just 23, he has his deficiencies no question, but if you believe that can build around him, he is worth the cash.
Best Fit: Atlanta
4) Nate Robinson, G, Chicago
Robinson's playoff bonanza (16-point average) when he went off on the Heat demonstrated the value of a free agent getting hot at the right time. His versatility on and off the ball is a big plus, and although he's best as a third guard, Robinson can spot start, as well.
Best Fit: Milwaukee
5) Gerald Henderson, SF, Charlotte (R)
Henderson had a stellar second half of the season for lowly Charlotte, averaging nearly 19 points. He's a solid defender, and it appears the Bobcats will bring him back; Denver, with Andre Iguodala gone, would be the better fit.
Best Fit: Denver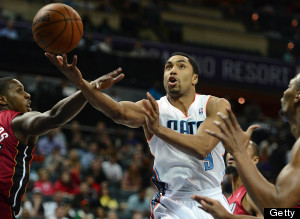 At the right price, Gerald Henderson could be a very nice addition to a playoff team. (Getty Images)
6) Mo Williams, PG, Utah
A guard who can score will always be able to find a home in this league, and Williams, even on his last legs, can still give you buckets. Atlanta, with Jeff Teague headed to Milwaukee, is a sensible fit for the vet, who would love to start.
Best Fit: Atlanta
7) Gary Neal, SG, San Antonio (R)
Neal's versatility, along with his tremendous shooting ability, would be a boon to plenty of teams looking to add backcourt depth. The Bucks, a rumored player, would be a great fit, considering that J.J. Redick and Monta Ellis are gone and free agent Brandon Jennings' fate is undecided. OKC is a sneaky team here, as well; San Antonio's finances prevent them from being a factor.
Best Fit: OKC (still has mid-level exception)
8) Brandan Wright, F/C, Dallas
The former lottery pick is generally considered a bust, but he actually had a decent campaign over the last two seasons in Dallas. Wright is an athletic big who can play the four and the five, as well as score a bit.
Best Fit: Dallas
9) Samuel Dalembert, C, Milwaukee
Dalembert can still block shots and make an open jumper. At 32 years old, he can be had at a very reasonable price.
Best Fit: Dallas
10) DeJuan Blair, PF, San Antonio
Blair saw a significantly reduced role last year with the Spurs, but he is still a capable rebounder and highly active big who can put up a solid 10 to 12 minutes a night.
Best Fit: Atlanta
Email me at jordan.schultz@huffingtonpost.com or ask me questions about anything sports-related at @Schultz_Report. Also, be sure and catch my NBC Sports Radio show, Kup and Schultz, which airs Sunday mornings from 9-12 ET, right here.