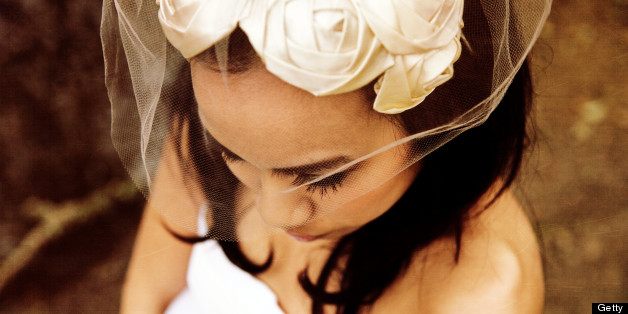 This article originally appeared in Wedding Ideas magazine
Your wedding day was perfect and you wouldn't change a thing, right? Wrong! These real brides reveal what they would have done differently if they could have their time again...
"I should have hired a wedding planner. We had a marquee wedding at home and had to organize every little detail ourselves -- not good!" - Rebecca
"I wouldn't worry so much about my dress getting dirty. We got some pictures taken underneath a blossom tree. They are our favourite photos from the day!" - Helen
"I wouldn't be so hung up on color schemes. I thought about colors for so long but was worried I would put something hideous together! So in the end I just chose colors I liked and went for bright and bold!" - Shelley
"In terms of budgeting I should have tried not to get so carried away in the couple of weeks before the wedding -- it's so easy to! You've done so well so don't spoil it with last minute expensive impulse buys!" - Lintilla
"I would have listened when the dress designer told me how to attach the train to my dress. We spent 30 stressful minutes trying to work it out!" - Jenni
"If we did it all again I might not have done so much ourselves, as although we had a lot of help, I organized everything pretty much from scratch and it did end up being more stressful for us." - Sarah
"The only thing we'd change about the wedding was our DJ. The prices do reflect the quality, so if you think you're getting a really good, cheap deal -- there might be a reason for that!" - Esme
"If we could do it all again we'd try harder to take it all in. It's a magical day, but very surreal and it's easy to get carried along and lose hours of time in what feels like minutes. I'm not sure it's possible, but listen to people when they tell you to take a minute to savor it all!" - Sophie
"I'm glad we planned indoor activities. Even though we were lucky with the weather, it was less stressful knowing we had a back-up plan just in case." - Donna
"We didn't think about a videographer until it was too late. I wish I had someone capturing the speeches!" - Victoria
"I should have asked the photographers to stay longer so I had more shots of people dancing at the evening reception." - Karen
"We didn't assign seating and probably should have because everyone seemed reluctant to meet the other side of the family." - Jenny
"I would definitely remember to have some tissue ready on the top table -- those speeches are going to make you cry!" - Hannah
Keep in touch! Check out HuffPost Weddings on Facebook, Twitter and Pinterest.
BEFORE YOU GO
PHOTO GALLERY
Real Weddings of the Week