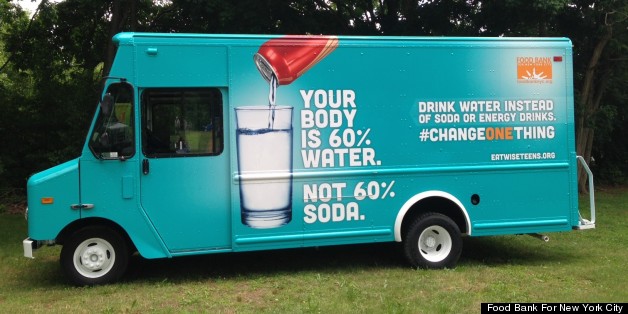 This week's Family Dinner Table Talk, from HuffPost and The Family Dinner book:
What's better than an ice cream store on wheels? In many neighborhoods, the ice cream truck is a beloved summer tradition, bringing cold sweetness to kids (and their parents) on the hottest of days. But would you still visit the truck if it brought healthy snacks instead of a sugar rush? That's exactly what's happening in New York City right now, as the Food Bank For New York City's "Change One Thing" truck visits different parts of the city, giving teens nutritious snacks and recipes to try at home.
No, this is not a prank. (Someone else started driving an anti-ice cream truck to be funny too.) The point is not to make people feel bad about enjoying a treat every once in a while; as "Change One Thing" explains on its website, "eating healthy doesn't have to mean overhauling your diet or buying expensive 'health food.' It can start with just one healthy choice per day." Tonight, let's talk about this idea -- and how to build a healthy lifestyle, one choice at a time.
Questions for discussion:

What is your reaction to the "anti-ice cream truck"
What kind of healthy foods do you like to eat?
What's one healthy choice you can make to improve your diet every day?
In her cookbook, The Family Dinner, Laurie David talks about the importance of families making a ritual of sitting down to dinner together, and how family dinners offer a great opportunity for meaningful discussions about the day's news. "Dinner," she says, "is as much about digestible conversation as it is about delicious food."
We couldn't agree more. So HuffPost has joined with Laurie and every Friday afternoon, just in time for dinner, our editors highlight one of the most compelling news stories of the week -- stories that will spark a lively discussion among the whole family.
BEFORE YOU GO
PHOTO GALLERY
Healthier Frozen Treats