Chicago's life-changing pizza took on new significance after a man's final act of kindness led to a heartwarming surprise for one Windy City waitress having a slow night on the job.
Thursday afternoon, Vanessa Goldschmidt, a server at Pequod's Pizza in Lincoln Park, was getting ready to cash out Seth Collins on a $45 tab.
Right then, the Tribune reports the Kentucky man stopped her and started sharing the story of his brother, Aaron, who attempted suicide and later died a little more than a year ago that day.
Collins then explained the last wish of his brother, who loved both pizza and random acts of kindness: "Leave an awesome tip (and I don't mean 25 percent. I mean $500 on a (expletive) pizza) for a waiter or waitress."
With that, WGN reports Collins handed Goldschmidt a $500 cash tip and a postcard with pictures of Aaron.
"I'm like shaking right now. Are you kidding?" Goldschmidt said, hugging Collins. "I'm so sorry about your brother," Goldschmidt added, still wrapped in a hug.
(See the nationwide pizza parlors where "Aaron's Last Wish" has been carried out.)
On a website for Aaron, family members describe him as "generous" and "incredibly sentimental."
"I read a lot of things about grief, about the loss of a child," Aaron's mother, Tina Rae Collins, told the Tribune. "Pretty much everybody says the only thing that they want is to hear their child's name spoken. They want to know their child meant something...I don't have to worry about that."
According to WGN, more than $60,000 in donations have poured in since the first instance of "Aaron's Last Wish" in action first went viral.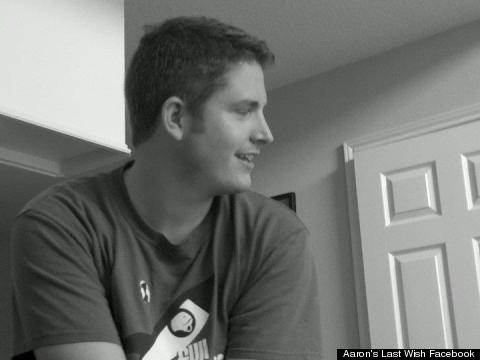 Aaron Collins
BEFORE YOU GO
PHOTO GALLERY
People Receive The Best News Ever