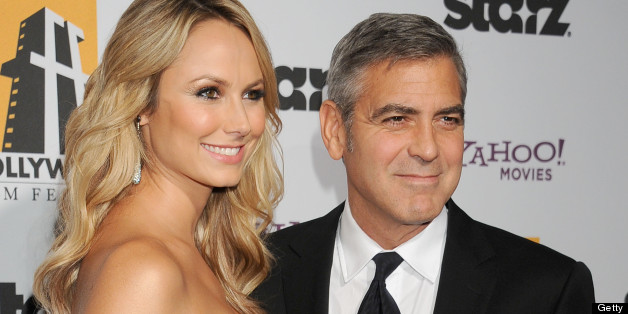 Welcome back to Week in Review, your one-stop shop for all the celebrity things you may have missed this week.
Topping this week's news was George Clooney's breakup from his girlfriend of two years, Stacy Keibler. Supposedly, "the pair decided to part ways due to their hectic work schedules." Another couple who called it quits this week was Superman Henry Cavill and "Big Bang Theory"'s Kaley Cuoco, who literally just started dating. Hollywood...
In happier relationship news, Whitney Houston's daughter Bobbi Kristina got engaged to her "brother" Nick Gordon and Eva Longoria finally went public with her new love after much speculation (it's "Ready for Love" contestant Ernesto Arguello).
Amanda Bynes made a public appearance last Friday for her criminal "bong out the window" case. Fitting her new bizarre persona, she wore a bright blue wig. Her case was then postponed to a later date. Unrelated, news started circulating that the troubled actress has been actively seeking help for her "anger issues."
Justin Bieber made some ill-advised headlines this week when he was caught peeing into a restaurant mop bucket and cursing out former president Bill Clinton, in what might be his crudest move yet. In an unrelated incident, Bieber's trusty sidekick Lil Twist got arrested for a DUI.
In infant news, baby North West made her first public appearance at grandpa Bruce Jenner's Fourth of July party; Busy Philipps named her newborn Cricket Pearl; and Ali Landry gave birth to her third child, baby boy Valentine Francesco.
Suri Cruise, one of the most photographed pint-sized celebrities in the world, got called a "brat" and a b*tch by an angry fan after she refused to sign autographs while making her way to the car with mom Katie Holmes. Much older Kanye West also lost his patience with the paparazzi (not that he had much to begin with), warning one photographer "don't talk ever again." His sort-of brother-in-law Lamar Odom also flipped on a pap this week after being harassed with alleged infidelity questions.
Elton John, Mariah Carey and Randy Travis all had the misfortune of seeing the inside of a hospital this week: Carey dislocated her shoulder on set of her new music video #Beautiful and was later released; John was diagnosed with appendicitis; and Travis is still hospitalized following a stroke.
Also: Catherine Zeta-Jones stunned at the LA premiere of "Red 2"; Lady Gaga showed off her incredible body in New York in nothing but a lace bra and tiny skirt; Julianne Hough wore shorts so short, it kind of looked like she forgot her pants; and Paris Hilton inadvertently flashed her bum like it's 2006.
See the best photos of the week below:
BEFORE YOU GO
PHOTO GALLERY
Celebrity News & Photos