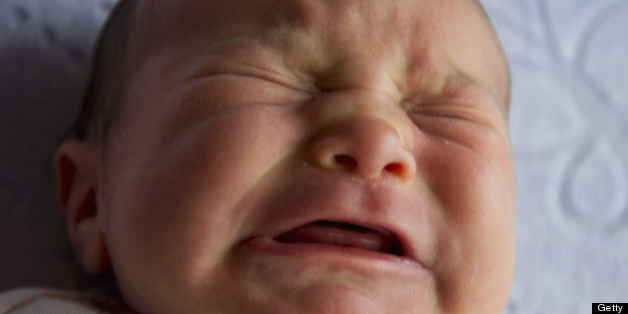 New research offers the tantalizing possibility that an innovative tool could decipher what an infant's cries mean and assess if he or she is at risk for developmental problems.
A team of doctors and engineers from Brown University and Women & Infants Hospital in Rhode Island have designed a "cry analyzer" computer program that evaluates simple audio recordings of an infant's wails for their frequency components. The program can pick out differences that are not perceptible to the human ear.
However, the tool is geared for doctors and medical researchers -- not harried moms and dads hoping to soothe their upset babies.
"It's a non-invasive way to possibly understand whether an infant is at-risk for later developmental problems, particularly autism," said Stephen Sheinkopf, an assistant professor of psychiatry and human behavior at Brown University who helped develop the tool and co-authored a paper describing its use in the " Journal of Speech, Language and Hearing Research."
The new tool also helps measure the "health status of babies in the newborn period," he said. "For example, whether or not they're experiencing pain after certain procedures in the hospital. Pain-related cries sound different than non-pain cries."
Last fall, several of the same researchers published research that found the cries of babies can provide early clues about their autism risk. The team compared the cries of 21 different 6-month-old babies who were considered at higher risk for autism (because they had siblings with the disorder) with the cries of low-risk babies. They found many consistent differences, particularly that the infants with a family history of the disorder had higher-pitched cries than those who did not.
The newest study on cry analysis is an extension of that work that helps validate the measurements used, Sheinkopf said. For now, it is targeted for babies who are up to 6 or 9 months old.
"This is part of an effort to identify potential signals for risk of autism in early infancy," Sheinkopf said. If future studies looking at babies over a longer period of time confirm the new findings, cry analyzers could become one tool in an arsenal of options that help doctors identify children at risk for autism at ever younger ages, in the hopes of getting them earlier intervention and help.
However, that possibility is still a long way off, Sheinkopf said.
On the more immediate horizon is the prospect of adapting the tool so it can be used by doctors and nurses to determine if babies are in pain. The work could help health care providers adapt clinical practices in hospitals and doctors' offices to limit any pain babies feel.
Sheinkopf said that he and his colleagues did not develop the tool thinking that it could someday be used by parents and caretakers -- and he cautioned that parents should not be driving themselves crazy trying to analyze what each and every cry means and whether it holds clues to a baby's health.
"We want parents to use their intuition -- and parents are good at that," he said. "We don't want them to over-read this sort of research … it doesn't have implications for their day-to-day parenting."
BEFORE YOU GO
PHOTO GALLERY
Seven Things You Didn't Know About Babies