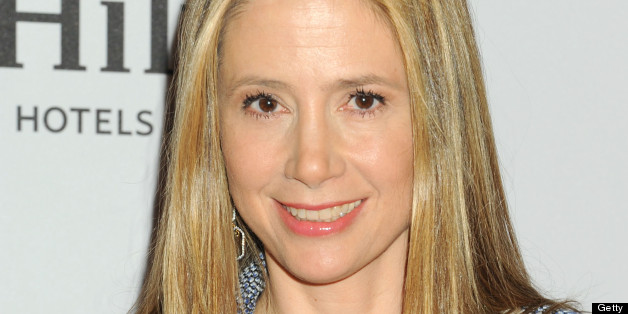 Mira Sorvino is joining USA's "Psych" for a multiepisode arc in season 8, according to The Hollywood Reporter.
Sorvino, best known for her role in "Romy and Michelle's High School Reunion," and her Oscar-winning supporting actress turn in Woody Allen's "Mighty Aphrodite," will play the SBPD's new head detective Betsy Brannigan.
According to THR, she's described as "a sweet, adorably reserved and yet certified badass. Brannigan's record for taking down ruthless criminals is rivaled only by her skills in sparkly craft making, and her seemingly bubbly demeanor can turn on a dime once she straps in the dual-wielded Colt .45s. She's a scrapbooking, cat-loving, crime-fighting machine." Sounds like she'll fit in perfectly.
"Psych" fans will also be treated to two extra episodes in Season 8, bringing the season's total up to 10 installments. One of the episodes will feature one of three potential storylines chosen by fans through an online vote. The winning storyline will be announced during the show's Comic-Con panel on July 18. This is a logical extension of the show's recent experiment of a "choose your own adventure"-style ending for the show's 100th episode, in which viewers voted in real-time to determine which of three outcomes was aired.
Check out the descriptions for the three possible episodes below:
TELETHON – In a classic "whodunit?" case with a "Psych" twist, Shawn and Gus investigate a murder that Shawn is convinced was committed by the beloved host of Santa Barbara's annual Children's Hospital Telethon. There's only one problem – the host was seen by hundreds of thousands of people on live television during the exact time the murder occurred elsewhere. Can Shawn steal the show, poke a hole in this rock-solid alibi, and prove the host did it? Or will Shawn fail in front of his biggest audience yet?
DREAM THERAPY – From acclaimed director James Roday ("Mr. Yin Presents…", "Heeeeere's Lassie"), comes a new vision in terror: "Nightmare on State Street!" In the episode, an exhausted Gus enters dream therapy to understand the cause of his recent night terrors. But after this, nothing is ever again what it seems… He soon realizes that in dreams, no one can hear you scream!
FOOD TRUCK – When the well-known owner of a beloved Santa Barbara food truck is mysteriously murdered, Shawn and Gus, fans of delicious flavor, are determined to solve the crime as only they can. They go undercover as proprietors of the "Psych" Naptime Food Truck, and soon discover that the high-profit world of Santa Barbara's mobile food business is cutthroat, insular and a place of many secrets –- many of them worth killing for.
Are you excited for Mira Sorvino on "Psych"? Which potential episode do you want to see on air?
PHOTO GALLERY
Summer TV Guide