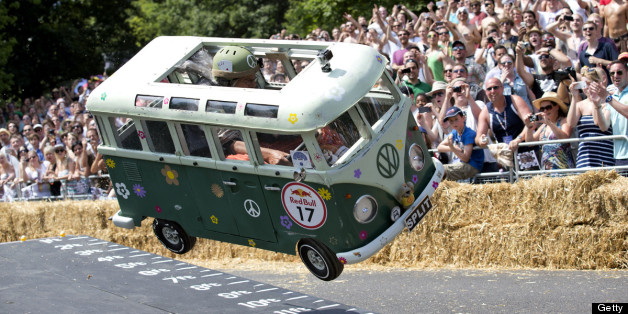 Where they were going, they did need roads...
After a 9-year absence from the home of Big Ben, the Red Bull Soapbox Derby made an epic comeback in London this weekend, taking over one of the country's steepest roads with a giant scotch egg, a miniature Titanic 2.0, and a scrotum-themed mobile.
There were epic crashes, a flying DeLorean, and major, major air in front of the 20,000 spectators who came to see the soapboxes, motorless vehicles often made out of wood.
Seventy competitors, powered solely by gravity's force, turned out for the races at Alexandra Palace on July 14 to take on the tricky 460-yard hill course, WNCT reports.
Each team was made-up of four members who were required to advertise the namesake event with Red Bull helmets. By regulations, each vehicle was required to have steering abilities and brakes, however all mechanical parts and motors were strictly prohibited.
Red Bull's first soapbox derby was held in Brussels in 2000. Since then, more than 40 races have taken place around the globe, spreading from Australia to South Africa.
The winner of London's competition was the Spit-Phya team from Newcastle, who zipped through the finish-line in a blueberry-toned car resembling land speed record breaker Donald Campbell's Bluebird, ESPN reported.
Spit-Phya teammates will be treated to a tour of the Red Bull Racing Factory and will get the chance to show off their racing prowess at a high performance track day.
Team Coffin Dodgers took second place and coming in third was the balling team 'Does My Scrum Look Big In This?'

BEFORE YOU GO
PHOTO GALLERY
Red Bull's Wacky Soapbox Race