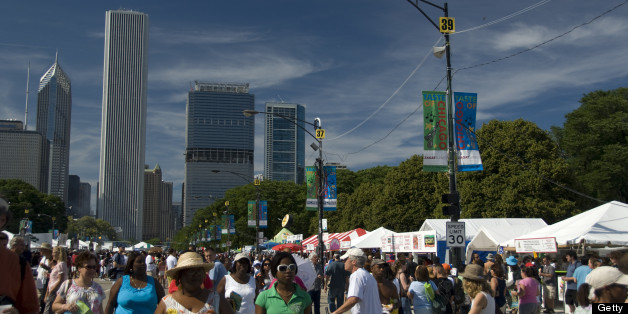 Early reports indicate the 33rd annual Taste of Chicago, which wrapped Sunday in Grant Park, scored more promising attendance numbers than in years past.
An estimated 1.5 million visited the Taste over its five-day run, according to early figures released by the mayor's office. The numbers averaged out to about 300,000 people per day, the Tribune reports.
And what exactly did those folks snack on? 75,000 slices of Eli's cheesecake, 20,000 Billy Goat cheeseborgers, 100,000 Star of Siam potstickers and 7,000 pounds of Wishbone watermelon lemonade salad, just to name a few items, based on the mayor's office's figures.
The figures are a bump up from 2012's festivities which drew an estimated 1.2 million guests, or 240,000 people per day. In 2011, the last year that Taste ran 10 days, daily attendance averaged 235,000 a day.
Amid the higher projected attendance — and the celebrity sightings — the Taste had a few unsavory moments, too.
Saturday, a 25-year-old West Side man was so drunk he reportedly passed out at the Taste while attending with his 1-year-old daughter, CBS Chicago reports. A nurse later measured Joshua Hinton's blood-alcohol-content to be 0.290, more than three times the legal driving limit of .08. Hinton was arrested and his daughter released to the custody of a relative.
Friday, two people were critically injured and later hospitalized after they were hit by an all-terrain vehicle being used by a Taste of Chicago operator, Fox Chicago reports. The ATV was being driven by a private vendor who was later cited for the incident.
Despite more robust attendance, the Taste may still be in danger after years of going into the red. Officials told the Associated Press the Taste of Chicago has lost $2.7 million in the last three years. Mayor Rahm Emanuel chopped the duration of the fest in half after the 2011 effort lost a million dollars.
In March, Ald. Bob Fioretti (2nd) pressed the City Council to explore the viability of running the Taste in years to come. According to the Sun-Times, Fioretti asked, "Are we on the last legs? Is it time to abolish it? Is it time to re-configure what we're doing?...This is definitely the end of Taste of Chicago unless they can prove otherwise."
It may be several more months until the Taste's final numbers are crunched; the Sun-Times notes 2012's final financial figures weren't released until October of that year.
BEFORE YOU GO
PHOTO GALLERY
Taste of Chicago 2012