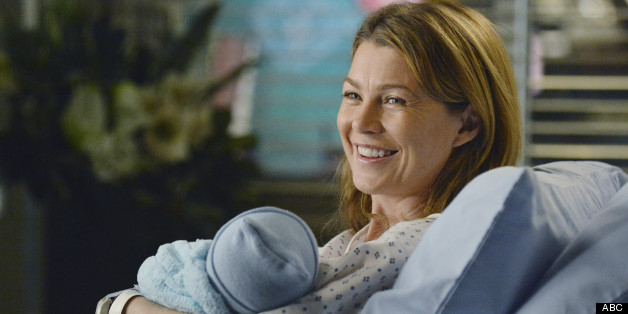 ABC fall 2013 premiere dates are here!
And there's good news and bad news, especially for those looking to return to Shondaland. Shonda Rhimes' "Grey's Anatomy" will be back for Season 10 in late September with a special two-hour episode, which will hopefully answer viewers' many questions: Will Callie and Arizona's marriage survive? And did Richard die? Is this the end of Owen and Cristina? Tune in on Thursday, September 26 to find out! Unfortunately, though, Gladiators will have to wait until October to find out what kind of daddy issues are in store for Olivia Pope in Season 3 of "Scandal."
But there are still plenty of good TV options to keep fans satiated in September and mid-way through October. So clear your calendars (and DVRs) and check out the full list of ABC fall 2013 premiere dates below. For tips on what's worth your time and what's not, check out HuffPost TV's first impressions of ABC's new series (which are indicated with a * below).
Friday, September, 6
"20/20," 10:00 p.m. - 11:00 p.m. ET
Monday, September 16
"Dancing With The Stars," 8:00 p.m. - 10:00 p.m. ET
Friday, September 20
"Last Man Standing," 8:00 p.m. - 8:30 p.m. ET
"The Neighbors," 8:30 p.m. - 9:00 p.m. ET
"Shark Tank," 9:00 p.m. - 10:00 p.m. ET
Monday, September 23
"Castle," 10:00 p.m. - 11:00 p.m. ET

Tuesday, September 24
*"Marvel's Agents of S.H.I.E.L.D.," 8:00 p.m. - 9:00 p.m. ET
*"The Goldbergs," 9:00 p.m. - 9:30 p.m. ET
*"Trophy Wife," 9:30 p.m. - 10:00 p.m. ET
*"Lucky 7," 10:00 p.m. - 11:00 p.m. ET

Wednesday, September 25
"The Middle," 8:00 p.m. - 8:30 p.m. ET
*"Back in the Game," 8:30 p.m. - 9:00 p.m. ET
"Modern Family," 9:00 p.m. - 10:00 p.m. ET
"Nashville," 10:00 p.m. - 11:00 p.m. ET

Thursday, September 26
"Grey's Anatomy," 9:00 p.m. - 11:00 p.m. ET
Sunday, September 29
"Once Upon A Time," 8:00 p.m. - 9:00 p.m. ET
"Revenge," 9:00 p.m. - 10:00 p.m. ET
*"Betrayal," 10:00 p.m. - 11:00 p.m. ET

Wednesday, October 2
*"Super Fun Night," 9:30 p.m. - 10:00 p.m. ET

Thursday, October 3
"Scandal," 10:00 p.m. - 11:00 p.m. ET

Sunday, October 6
"America's Funniest Home Videos," 7:00 p.m. - 8:00 p.m. ET

Thursday, October 10
*"Once Upon A Time In Wonderland," 8:00 p.m. - 9:00 p.m. ET
WANT MORE? SEE PREMIERE DATES FOR
PHOTO GALLERY
ABC's New Shows 2013-2014