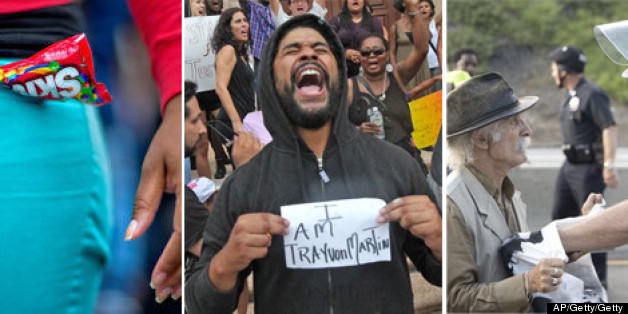 George Zimmerman was acquitted Saturday in the murder of Florida teenager Trayvon Martin. In the wake of the jury's verdict, many were shocked and many more were angry.
Some took this anger and reacted with violence, but that has been the exception and not the rule. Instead, the overwhelming response from supporters of the teen has been peaceful yet poignant dissent.
Over the weekend, people all across the United States -- in cities like San Francisco, Los Angeles, Detroit, Chicago, Atlanta, Miami, New York and Sanford, Fla. -- took to the streets to hold vigils and peaceful demonstrations to protest the jury's decision, and to mourn the passing of the young black man.
Many more took to Twitter to call for #JusticeForTrayvon, with some opting to share powerful images, videos and poetry to show their solidarity with the fallen teen. Several celebrities did the same.
Click through this slideshow to see some of the most uplifting ways that people have chosen to come together to strengthen their communities and to show their love for Trayvon Martin:
PHOTO GALLERY
#JusticeforTrayvon
BEFORE YOU GO