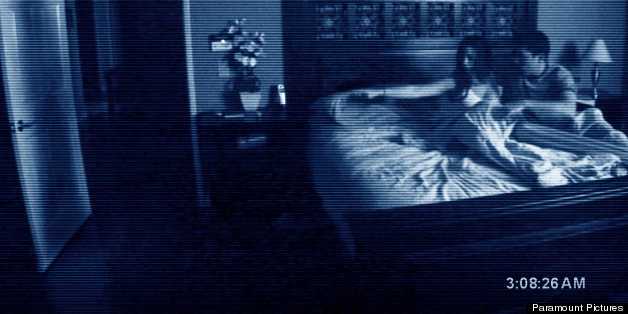 The "Paranormal Activity" series is set to break its streak this year, as the fifth entry in the lucrative franchise may be delayed until 2014. That's the report from TheWrap, and -- if true -- it means "Paranormal Activity 5" would break a string of three straight years with "Parnormal" films getting an October release date.
UPDATE, 7/17: According to a new report from TheWrap, "Paranormal Activity 5" is actually still slated for an October release, this despite the fact that no footage from the film has been shot. Instead, the January "Paranormal Activity" film will be a long-planned spin-off feature called "The Oxnard Tapes." Per Deadline.com, however, "Paranormal Activity 5" may not come out in October at all. Both sites do agree that "The Oxnard Tapes" does exist, though, and will arrive in theaters on Jan. 4, 2015.
The original story continues below.
The next sequel was slated for an Oct. 25 premiere, but Paramount Pictures may now be eyeing an early January debut instead, according to TheWrap. The exact reasoning is unclear, but some speculated the film's nonexistent plot details and a lack of a director listed on the movie's IMDB page were partially to blame. However, Wall Street Journal reporter Ben Fritz threw cold water on that notion via Twitter:
@raysubers incorrect

— Ben Fritz (@benfritz) July 16, 2013
That goes with what TheWrap reported. "They really like the director, but they are second-guessing themselves," a source close to Paramount reportedly told the Hollywood trade.
The move leaves an open slate for this year's Halloween horror releases, yet there's not much in place to take over the "Paranormal" spot. "Insidious: Chapter 2" hits theaters Sept. 13, while the highly anticipated remake of "Carrie" bows Oct. 18.
Whether this switcheroo marks the impending demise for the series is yet to be seen. "Paranormal Activity 4" earned $139 million worldwide, becoming the lowest-grossing entry in the franchise to-date. But the January due date may not completely slay the sequel's chances for success, as that month is another popular time for horror releases. If "Paranormal Activity 5" joins the January calendar, it'll go up against scare-fests like "Devil's Due" and "Amityville Horror: The Lost Tapes."
For more, head to TheWrap.
[via TheWrap]
BEFORE YOU GO
PHOTO GALLERY
Ridiculous Horror Movies