A gaggle of kids playing in the street pose arm-in-arm, posturing and grinning toothily for the photographer from the local newspaper who happened to be walking by: "Hey mister," they begged, "take our picture!" One of them is too small to see over the shopping cart she's pushing; two others are girls, two are boys; their ages range from 3 to 9. Three are black and two are white, though none of their differences seem to stop them from becoming fast friends.
After photographer Joseph Crachiola snapped the photo in a Detroit suburb in July of 1973, those children likely kept playing, and he kept walking. But 40 years later, his image, which first appeared in the Macomb Daily newspaper, continues to resonate.
It was particularly fresh on his mind this weekend after a jury delivered a "not guilty" verdict for George Zimmerman, who shot and killed Trayvon Martin, an African-American 17-year-old.
"I remember laying in bed Saturday night," Crachiola told The Huffington Post in an email. "My phone was on the night stand next to the bed. I glanced at it and saw a news item about the verdict in the Zimmerman trial. That was very unsettling. Without making any judgements one way or the other about what happened in the courtroom, I just knew that tensions would be rising."
Crachiola said he decided to post the photograph to the Facebook page for his photography because he wanted to put something out that was positive.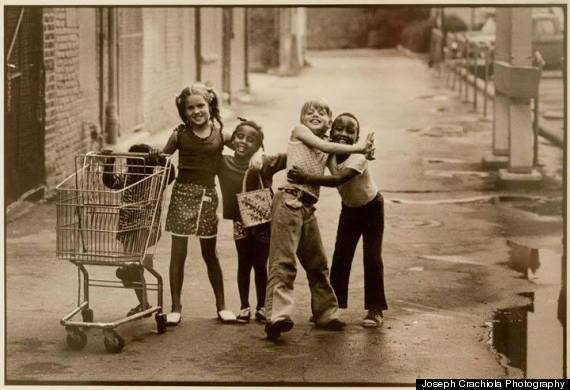 "I simply wanted to make a personal statement, not so much about the trial but about the larger issue of race relations -- as well as basic human relations," he said. "No matter what anybody says, I will always believe that race was a factor in the shooting. Issues of race are part of the American DNA in my opinion."
The photograph has gone steadily viral, with more than 6,000 likes, 3,000 shares and 200,000 views on the post in four days. Crachiola said it was "gratifying and humbling" to see that others had seen so much in his photograph, which he believes "speaks to some very simple truth about our common humanity."
The world seems to be filled with misunderstanding, which often leads to anger, fear, and ultimately hatred and violence. Whether it is violence based on race or gender or religious or political differences, it all seems very unnecessary to me. The simple message is that we are all human. We all bleed the same. I think we all want the same basic things out of life - to live in peace and have food and shelter and to be loved. Maybe I am naive or overly idealistic. I'm a product of the sixties. I grew up thinking that we could end war and that basic human justice was a real possibility. I get very cynical sometimes about the state of the world and our society in particular, but when I look at those kids it makes me think we could learn a lot from their innocence.
The Macomb Daily dug up the microfilm to find the caption for the photo: The children are Rhonda, Roger and Lisa Shelly, ages 3, 6 and 5, as well as Kathy and Chris Macool, ages 7 and 9.
Crachiola, 63, retired several years ago and moved to New Orleans, where he bought and is restoring a house in the Lower Ninth Ward. When he's not working on his house, which will include a gallery and studio when he's done with it, or playing his guitar or saxophone around the city, he's out shooting on the streets, just like he did in Mt. Clemens, Mich., 40 years ago.
"The street culture [in New Orleans] is unlike anything else in the United States," he said.
After years as a commercial photographer lugging around gear, he said he's returned to his photographic roots and concentrating on personal work. He can often be found wandering around with just a Leica and one lens.
The response to the photograph has fueled him to continue taking pictures.
"I'm just an old guy who likes to take pictures, but the response also gives me a renewed sense of purpose," he said. "If I ever had any doubt about the power of the still image it has been removed forever."
Check out more of Crachiola's work on his website and Facebook. If you know the Shellys or Macools -- or recognize yourself in the photo -- get in touch with HuffPost Detroit.
PHOTO GALLERY
#JusticeforTrayvon