UPDATE: Thursday, 10:30 a.m.-- Fox 2 Detroit reports Dearborn Police have discovered the body of a female in a wooded area near Michigan Ave. in Dearborn. The Detroit Free Press says that law enforcement blocked off an area of land near a set of railroad tracks between the Southfield Freeway Service Drive and Michigan. The area is not far from the Family Dollar store from which 20-year-old Brenna Kathleen Machus was possibly abducted earlier this week. Dearborn Police Chief Ronald Haddad will address questions at a press conference later this morning.

Earlier..
Dearborn, Mich. police and the mother of a missing 20-year-old store clerk begged the public to come forward with information about the whereabouts of Brenna Kathleen Machus, who disappeared from a Family Dollar store on Monday night.
Machus, age 20, was working at a Family Dollar store in Dearborn Monday night. Employees who entered the shop Tuesday morning found a ransacked store and the body of another employee, Joey Orlando. Machus has not been found, and police fear she may have been abducted.
"If there's someone out there who has her, we don't care if you drop her off at a hospital. let us know. We will come get her, no questions asked. We want her home," said her mother, Lisa Machus, at a press conference held Wednesday afternoon, reported the Detroit Free Press.
Dearborn Police Chief Ronald Haddad also asked two unknown female customers who were inside the store between 7:25 and 7:35 p.m. to contact police immediately. That's when surveillance videos released by Dearborn Police show an unknown suspect entering the store, hiding his face from the camera and waving to someone off-screen.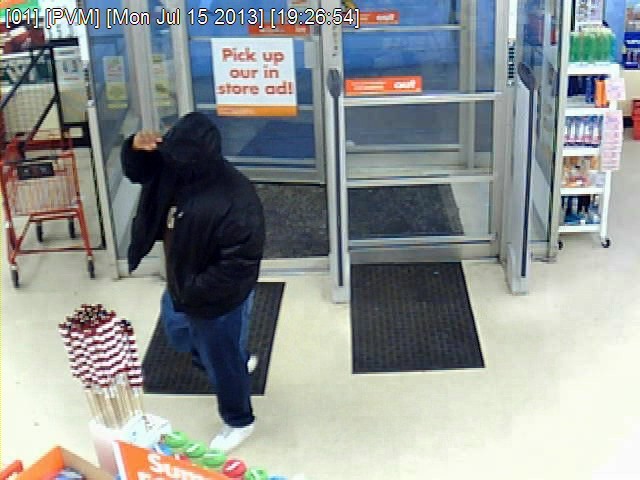 Still image from surveillance video taken at the Dearborn Family Dollar on July 15, courtesy of the Dearborn Police Department.
The video stills appear to show a man clad in a black hooded jacket, blue jeans and white sneakers, who entered the store at 7:26 p.m. on Monday.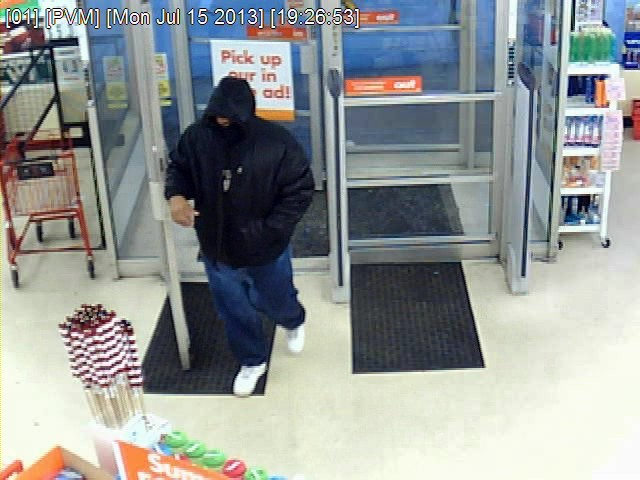 Haddad denied that the two customers were suspects, but he said that their information could help officers track down Machus.
"I'd rather not expend a lot of our police resources looking for them," he said, according to WXYZ-TV. "I'd rather they come forward … at least we can get a better timeline on what occurred."
He confirmed that federal investigators and the Michigan State Police have joined the case.
So far, much of what happened Monday night remains unclear. Twenty-year-old Joey Orlando, who was shot execution-style inside the Family Dollar, had only worked at the store for a week, his grandfather told WXYZ.
"He got his life together," said Konkel. "He got the job on Thursday. He was so happy."
Ryan Machus, Machus' brother, told the Detroit Free Press that his sister is a smart, caring young woman who works long hours at the Family Dollar store and dreams of one day being a crime scene investigator.
He is hoping that anyone who has seen his sister will contact authorities as quickly as possible.
"You know, we're not naive," he said. "That's why, you know, we're trying to get as much out as we can as soon as possible."
Anyone who has seen or communicated with Machus since Monday is urged to contact Dearborn Police immediately at (313) 943-2241.
Crime Stoppers of Michigan is offering an $11,100 reward for information about Machus' whereabouts, as well as $2,500 for tips that lead to an arrest and a $1,000 bonus for any information received by midnight on Thursday morning. The Crime Stoppers bureau, which rewards information on violent crimes in Southeast Michigan, is completely confidential and available 24 hours per day. All phone numbers are sent to a call center in Toronto that is not staffed by police. Tipsters are only assigned an ID number and the calls are not recorded. Call 1-800-SPEAK UP.
BEFORE YOU GO
PHOTO GALLERY
Missing Children