From the day he or she is born, the first child of Britain's Prince William and Kate Middleton will be third in line to the British throne.
Royal lineage in Britain is guided by the principle of primogeniture, a system that puts the eldest child first in line for succession. According to the principle, Queen Elizabeth's heir-apparent is her firstborn son, Prince Charles, followed by his firstborn, Prince William, followed by his firstborn, the royal baby.
While Britain for centuries privileged male royal heirs over their female counterparts, an adaption to the succession laws was approved in 2011, assuring the royal baby will be third in line regardless of its gender.
Queens, of course, are nothing new in the U.K., but it's worth remembering that Queen Elizabeth II only ascended the throne in 1952 because she had no male siblings.
Prime Minister David Cameron has hailed the new gender-neutral outlook as a welcome reform. "The idea that a younger son should become monarch instead of an elder daughter simply because he is a man ... is at odds with the modern countries that we have become," Cameron told the BBC.
The new law of primogeniture will not affect British royals born before 2011, meaning the lines of Prince Andrew and Prince Edward, Queen Elizabeth II's second and third sons, still come before the line of their older sister Anne, Princess Royal.
If Queen Elizabeth II, Prince Charles, and Prince William were to perish before the royal baby turns 18, under the Regency Act of 1937, Prince Harry would serve as his or her regent until the child came of age and became the full head of state.
In 1701, the right to the British throne was restricted to Protestants and even members of the royal family married to Catholics were forbidden from ascending. While Catholics remain forbidden to take the crown, the ban on successors married to Catholics was abandoned recently, Agence France Press notes. However, as the Economic Times points out, no royal above 32nd in line for the throne is affected by the change.
While the official website of the British Royal family only specifies the first 40 successors to the throne, amateur genealogist David Lewis has extrapolated the British line of succession out to the 5,753rd place as of January 2011 based on family trees and the rules set down by Parliament. If you're curious, the last place in line is held by Karin Vogel, a therapist in Rostock, Germany, according to the Washington Post.
Check out where the royal baby falls in order of succession to the British throne below (the black line indicates the line of succession and the red lines indicate lineage)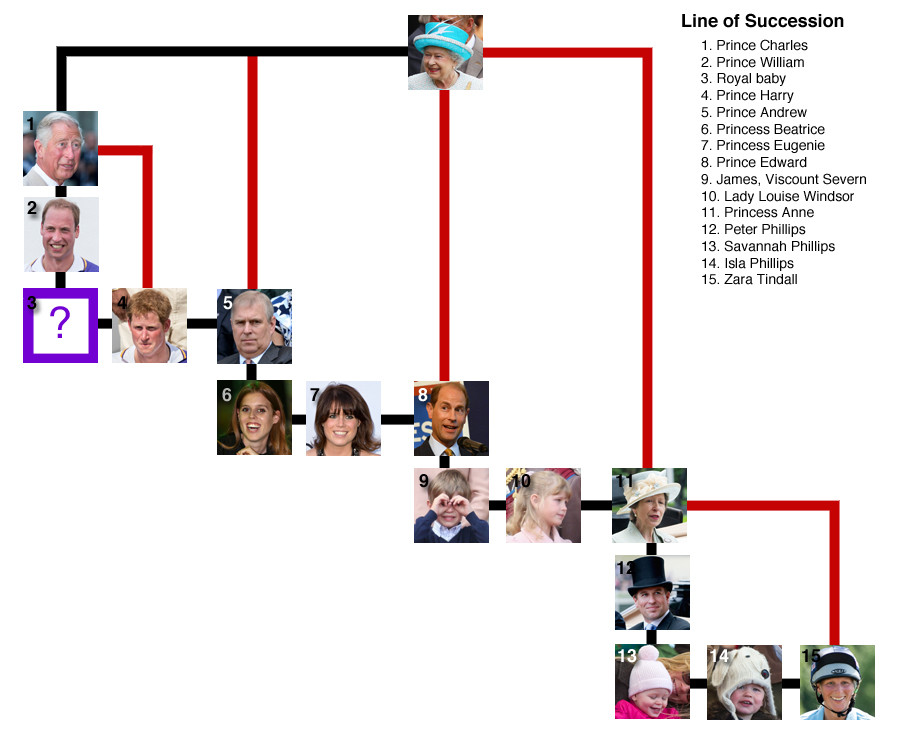 (Photo credit: The Huffington Post/Getty Images)
BEFORE YOU GO
PHOTO GALLERY
Royal Children! (In No Particular Order)