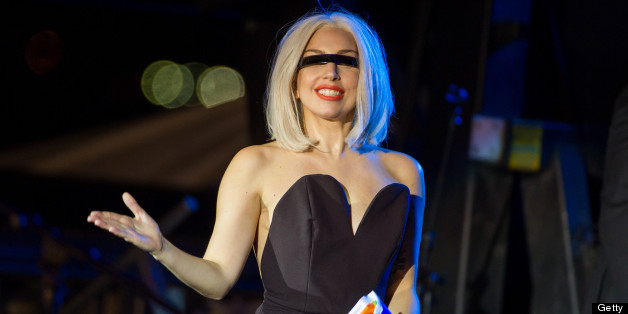 Lady Gaga and burqas go way back, but a new, purportedly leaked Gaga song takes the singer's interest in the Islamic outer-garment even further.
UPDATE: As expected (this is why we told you to pile on some salt), it turns out the track is not a Gaga tune. Sources with knowledge of the matter have denied that the snippet is a new Gaga song to The Huffington Post. The original article continues below.
According to the internet (go ahead and start ladling on the salt), the below vocal snippet is Lady Gaga singing a whole song about burqas. This comes a few months after an instrumental supposedly titled "Burqa," also allegedly from the single's upcoming album, "ARTPOP," leaked online. That hard-driving electro track is believably Gaga, especially as she's working with dance music artists like Zedd on the upcoming LP. Take a listen below:
We've reached out to Gaga's reps for comment and will update this post if one is received. This wouldn't be the first time the singer has referenced burqas. On "Cake," a song that was released by Gaga producer DJ White Shadow, she sings that she has "burqa swag like Lady Gaga." (Burqas, for what it's worth, have become something of a trend for western singers.)
"ARTPOP," which is being kept firmly under wraps, is set for a Nov. 11 release, with the album's title single slated for a Sept. 9 drop date.
Here are the supposed lyrics to the snippet, via BuzzFeed:
Wear it out, harmonize, stability.

Disturb the unaware

Put it on, conceal your hair.

Disturb the unaware,

Bitch I've been on the cover of Vanity Fair.

Let's get it on, religious risky fashion

Let's get it on, religious risky fashion

Put it on, wear that Burqa all year long

all year long.

Burqa, Burqa, Burqa

lets get psychotic.

Burqa, Burqa, Burqa

lets get erotic.

robotic.

Make them all disagree,

Be the bel esprit.

Beleaguere them with the tea.

Show it off, you're the celebrity.
BEFORE YOU GO
PHOTO GALLERY
Lady Gaga Style Evolution