Egg whites are for girls, bacon is for men? Ridiculous, yes, but that seems to be the implication of one diner's menu.
Woodside Deli in Silver Spring, MD currently has a few specials on their menu that make us scratch our heads and think "really?" The "Girlwhich" includes egg whites, mushrooms and onions, while the consumer of the "Manwhich" gets ham, bacon and some pancakes with what the restaurant presumes is his breakfast sandwich.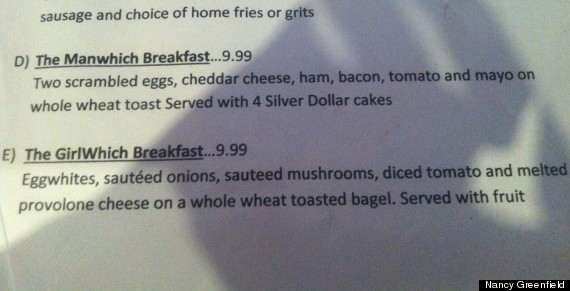 Besides the obvious facts that plenty of ladies love themselves some crispy bacon with their diner breakfast (or brunch) and a lot of dudes like veggies with their bagels, these menu items raise a few questions:
1. Why Girlwhich and Manwhich? We can answer this one. Womanwhich and Boywhich would sound absurd. Why is the reverse any less ridiculous?
2. On a related note, why is there an extra "h" in every sandwich name? Shouldn't it be Girlwich?
3. When did provolone cheese become feminine?
4. Does slathering mayo on your sandwich make you a better man?
5. Why do restaurants seem to think that women love fruit cups? Let's be real. No one likes a diner fruit cup because it usually includes honeydew, cantaloupe and two squishy grapes.
There is not one way all women eat and one way all dudes eat. While marketers are still trying to convince us that women survive on a diet of greek yogurt, lettuce, Cosmopolitans and post-breakup chocolate, we all know better. So let's stop assigning genders to our breakfast foods. It's my morning meal -- and I'll have silver dollar pancakes if I want to.

BEFORE YOU GO
PHOTO GALLERY
"Women Grilling" According To Stock Photos